Allan Gray Life Limited is a separate registered long-term insurer that is part of the very successful Allan Gray asset management services company. The parent company has an illustrious track record in its field, regularly yielding high returns for its clients from their portfolios. It specialises in an uncanny knack for accurately choosing the right portfolio baskets. This bodes exceptionally well for its insurance products, as underpinning successful insurance portfolios are successful investment portfolios, to ensure a sufficient capital base to pay out claims, generate investment returns and keep premiums as affordable as possible.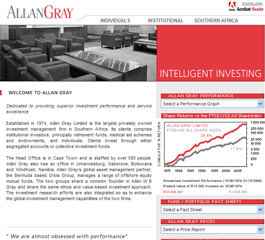 Allan Gray Website
On the Allan Gray website you can learn more about their products and services, as well as make use of their online facilities.
Allan Gray is affiliated with the Orbis Group for the purposes of life insurance, but remains a hundred percent owned subsidiary of Allan Gray. Its primary objective and offering in the life insurance arena is the provision of pooled portfolios. This is a mechanism that allows business clients who could previously not make the minimum limits for segregated investment management services to obtain them.
Given that the minimum investment required for a normal segregated pension and provident fund is R500 million, many smaller businesses will welcome this product. It allows for such companies to participate in linked fund policies, which only have a minimum investment of R20 million.
There are 3 classes of risk for this product - clients can choose the option that suits their risk profile and appetite. This is done on the typical risk/return analysis - there is absolute risk (which offers the best return at the highest risk), balance risk (a more balanced risk profile, as you`d expect from the name) and stable risk (which is the most secure). Various asset classes are invested in - money market assets, bonds, listed property assets, foreign assets and equity.
PRODUCTS
Corporate and Institutional Life insurance
Affordable pooled portfolio investment packages for corporate pension and provident funds.
BEE AND CSI INFORMATION
As a signatory to the Financial Sector Charter, the company is fully aligned with Broad Based Black Economic Empowerment. It has a comprehensive approach to BEE, which includes almost 30% black ownership and 50% management at board level. It has an ongoing skills development programme and has been involved with a number of community upliftment programmes, including Habitat For Humanity and Night Haven.
CONTACT DETAILS
Tel: +27 (0)21 415 2300
Fax: +27 (0)21 415 2400
Email: direct email contact via website contact form
Physical Address:
Granger Bay Court
Beach Road
V&A Waterfront
Cape Town 8001
Postal Address:
PO Box 51318
V&A Waterfront
Cape Town 8002
South Africa
URL: www.allangray.co.za