Hippo specialises in aggregating products and services from leading insurance providers in South Africa, allowing you to compare them and choose that which suits you best. It has a very easy to use and useful website that features comprehensive information on the various insurers and products in the South African market. There is an easy to use comparison tool that allows you to shop around and compare quotes, all from a single place.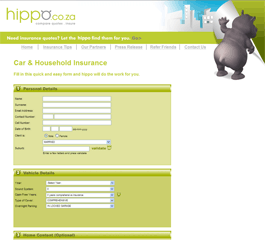 Hippo Website
On the Hippo website you can get a free online quote or compare the offerings of various insurers.
The company has sourced only the best insurance partners to market. Its roster includes some of the most trusted and recognised names in the various markets, including the likes of DialDirect, Auto & General, 1st For Women, Budget Insurance, the Automobile Association and others of the same standing and reputation. The broad categories of insurance covered are car and home insurance, life insurance, business insurance and medical insurance.
Everything is handled in a central online interface that is quick and efficient to use. All that you need to do is input your details and then select your insurance requirements. Once you`ve done this you submit the form and the online tool scans all the options available and presents you with a neat summary of the products that would suit you, along with quotes for each. Shopping around for insurance could hardly be easier - you can just imagine the amount of time you`ll save using a tool like this.
Hippo is run by Financial Services (Pty) Ltd, and is the brainchild of directors who have long-standing experience in the South African insurance trade. It`s a fully licensed financial services provider, with full compliance and is a subscriber to the FAIS General Code of Conduct.
In addition to the quote generation service, there is also a knowledge base of insurance tips and information available to all on the company website. But the meat on the bone remains the quotation service, and nothing is allowed to detract from that. It`s almost Google-like in its simplicity - there`s no clutter for you to wade through - it`s slick, easy to use and quick.
PRODUCTS & PARTNERS
Car and Home insurance
Quotes are generated and retrieved for you to compare from the following partners: AA Insurance, Auto & General, Budget Insurance, DialDirect, 1st For Women, Prosper, Unity and Woolworths.
Life insurance
Quotations on life insurance are sourced from 1LifeDirect.
Business insurance
A comprehensive package of business insurance products is sourced from DialDirect.
Medical insurance
The company uses Optivest Health Services to provide medical insurance quotes.
BEE AND CSI INFORMATION
None provided at the time of review. The company runs on different lines to an insurance provider, as it is simply an aggregator, comparison provider and facilitator.
CONTACT DETAILS
Contact is via email and the company website. Quotes are sourced directly online.
URL: www.hippo.co.za
Webmaster: andrep@hippo.co.za
Advertising: lucindab@upstream.co.za
Legal Compliance: compliance@hippo.co.za
Partnership information: donnaf@upstream.co.za
Physical Address:
Insurance Towers
Cnr Barry Hertzog and Napier Roads
Richmond
Johannesburg
2092