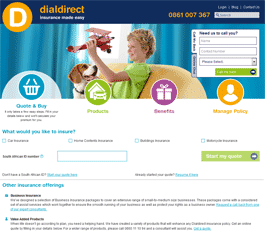 Dialdirect Website
On the Dialdirect website you can get a free online quote or log in and submit a claim.
Dialdirect has created a very successful and popular market for itself in the South African insurance industry by emphasising the direct provision of short-term insurance products to clients. Started in this country in 2003, it has over a decade of operational experience in the United Kingdom and Europe.
The company has achieved its success based on two fundamental strategies. Firstly, the cutting out of intermediate brokers, strongly and actively promoting direct dealings with its customers. Using a technologically advanced call centre staffed by highly trained and knowledgeable agents, it has made the entire process extremely user friendly for the layman - from sourcing insurance quotes to lodging claims. In so doing is has also done away with the need for complicated and confusing paperwork - everything can be done on the phone. All of this can also be handled online via the company website.
This has gone a long way to simplifying a process that has traditionally been perceived as overly complicated by consumers. This has come at the perfect time, given the new emphasis that has been placed on the insurance sector across the board.
The other important upshot of this strategy is that broker fees to be borne by clients have been eradicated, and administrative costs significantly reduced. This has the twin benefits of keeping premiums down and also ensuring that a smaller proportion of these premiums is spent on admin costs, and more on investment.
Dialdirect has implemented a second strategy that has found good traction in the market and with clients. This takes the form of cash-back rewards for not claiming on insurance policies. And it`s more than just a nominal amount - customers can receive as much as a full 100% of the first year`s premiums in rebates over a 4 year period. The proof of the pudding has been that this scheme has been voted as the most popular of all short-term insurance schemes in the country. In addition, not all types of claims are counted against this rebate - so the no-claim bonus is easier to preserve.
Through a combination of efficient direct service, lower premiums, cash-back rebates and no-fuss claim payout procedures, Dialdirect has ensured a premium service to insurance consumers, which still goes from strength to strength.
PRODUCTS
Car insurance
Four categories are available - comprehensive, third party, fire and theft and off-road. Includes emergency assistance
Motorcycle insurance
Covers motorcycles used for personal and business purposes. Standard types of accessories are included in this cover, as is third party insurance.
Caravan and trailer insurance
Individual cover for these items is offered, as well as combination cover with other items. Fitted accessories are included, and sundry removable items can also be included by request.
Watercraft insurance
Comprehensive cover for all types of watercraft, which includes machinery and accessories. Includes medical and third party cover.
Household insurance
Covers all normal household contents. A number of contingencies are included, like fire, theft and accidental damage. Personal liability and domestic employee cover is included.
Buildings insurance
Covers structural damage to the physical buildings on your property, including such things as swimming pools and fences.
Portable possessions
This covers specific possession that you take with you outside your home - such as cell phones, laptops, jewellery and clothing.
Business insurance
A wide range of products is available, such as general office insurance, insurance for professionals. These are tailored for individual business clients.
Top-up cover
Various top-up policies are available, including personal accident, cell phone, mechanical breakdown and financial protection plans.
BEE AND CSI INFORMATION
Dialdirect maintains a large BEE-accredited component in its preferred suppliers list.
CONTACT DETAILS
Toll-free telephone: 0861 007 250
Quotes: 0861 007 250
Online Queries: website call-back form
General telephone: (011) 428-1228
General fax: (011) 429-1138
Physical Address:
Investment Place
Block B
10th Road
Hyde Park
2196
URL: www.dialdirect.co.za