Auto & General has become a leading light in the short-term insurance industry in South Africa, and has become a very well patronised provider, especially of vehicle insurance. It has established itself through providing good deals and insurance packages, and through bringing its 2-decade long experience to bear on the market. Its track record began with its inauguration as an insurance company as part of the Telesure Investment Holdings Group in 1985. Further consolidation occurred when the company partnered with Glenrand MIB - this saw it placing itself firmly with a stock exchange listed financial services company.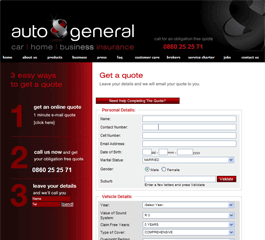 Auto & General Website
On the Auto & General website you can get a free online quote or log in and submit a claim.
Plenty of industry and market recognition has ensued, including being voted Insurance Company of the Year for the automotive industry in 2005. SASFIA members also voted it Best Short Term Insurance Company in 2004. This was also one of the very first insurance companies to introduce a simplified insurance policy contract that was easily accessible and understandable to the man in the street. This pre-empted later transparency regulations by a good few years, coming as it did in 1999. As its influence on the South African market increased, a decision was made to expand internationally, which has since seen it inking franchise deals with selected partners in Australia, Europe and the United States. It has earned a rating of A+ by the Global Credit Rating Company for its claims payment record. Other innovations that the company has introduced to boost its user-friendliness is a fully computer-based administration process, franchising its successful software to others as well.
Auto & General specialises in short-term insurance. Its main focus, as you`ll deduce from the name, is comprehensive automotive (including water vehicles) and household insurance. It also offers insurance for buildings, businesses and portable possessions. There are plenty of value-added services attached to its insurance products as well, including assistance in the event of an accident or a medical emergency. Supplementary products to the main cover are available, like extensions of cover and top-up policies. There is also a rewards scheme, in the form of cash-back programmes.
A dedicated client services team is always available to deal with any queries, quotes and policy issues. Quotes can be sourced quickly and easily online at the company`s website, or by calling in - alternatively you can request a call-back via the website as well. There is a client services charter that is clearly set out, which serves as the blueprint for all the company`s dealings with clients and prospective clients. The website also provides functionality for you to manage your policy.
PRODUCTS
Vehicle insurance
This includes comprehensive vehicle insurance, 3rd party, 3rd party along with fire and theft, and comprehensive insurance for off-road vehicles.
Motorcycle insurance
Cover is for motorcycles used as your normal means of transport as well as for social use. Accessories are also included, as is 3rd party.
Caravan insurance
This includes factory accessories that have been fitted as standard - you may insure these in combination or individually. Extra cover is available for contents that you purchased with the caravan itself. Separate cover is available for personal possessions that are in the caravan at the time of mishap.
Trailer insurance
Cover that includes damage and theft, as well as damage that your trailer may cause to other people or their property.
Watercraft insurance
A wide range of craft is covered (e.g. yachts, jet skis, rubber ducks, dinghies, motor boats), and this includes motors and standard equipment - both while on the water and on land. You can choose to also take 3rd party cover, medical cover and cover for anyone who water skis from your boat.
Home contents insurance
All home contents are covered, against many eventualities, including flood, fire and theft. This includes contents of outhouses. You are also covered against liability for other persons whilst on your property, domestic employees and tenants.
Portable possessions insurance
This allows you to insure valuable items that you consider to be vulnerable when you`re carrying them with you - like jewellery, cell phones, cameras and laptops.
Buildings insurance
This covers the structures on your property, including things like swimming pools, walls and fences.
Business insurance
There`s a lot to choose from here, to suit all business needs. There`s general office insurance, as well as cover specifically for estate and travel agents. Practise insurance covers medical professionals. Professional packages are offered to brokers, lawyers, accountants and so on. Then there`s comprehensive business insurance, for concerns like book shops, retailers, florists, salons and the like.
Combination auto and business insurance
The company offers combined cover products: auto and business, auto and office, auto and practise, auto and professional.
Value-added products
Various protection plans (including specifically for HIV, personal accident assistance, car touch up policy, extended vehicle cover and mechanical breakdown cover.
BEE AND CSI INFORMATION
The company has taken an aggressive stance on implementing BEE principles in a concrete way. In practical terms this has translated into a training programme for those who were previously disadvantaged, to prepare them for permanent employment with the company, and a similar management development programme. At the time of writing, the company claims a 55% previously disadvantaged staff component.
The company is also very involved in community upliftment initiatives like supporting a sanctuary for handicapped children, the Habitat For Humanity project to provide better housing for those below the breadline, and an HIV/AIDS support initiative.
CONTACT DETAILS
Policy services toll-free: 0860 10 43 18
Claims services toll-free: 0860 10 43 18
Quotes: 0860 10 43 18
Call-back: Call-back functionality on website
For regional contact details, see the company website.
Physical Address:
Cnr Barry Hertzog Ave
& Napier Str
URL: www.autoandgeneral.co.za