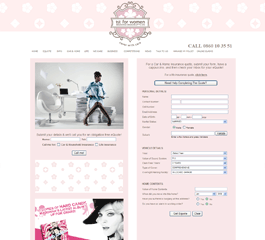 1st For Women Insurance Brokers Website
On the website you can get a free online car or life insurance quote, manage your policy or submit a claim.
1st For Women Insurance Brokers is the first South African insurance company to offer insurance products and services that are specially designed to meet the insurance needs of women - taking into account both these particular needs and the different insurance profile that women have. The concept, on which much of the company`s marketing has been based, is that women take fewer risks than men, and that these insurance packages reward women for being better insurance risks.
This reward is mainly in the form of lower premiums, but it`s not all that the offering is based on. Since its founding in 2003, it has created its insurance products from ground up, making sure that the specific needs of women are built in at every stage. This includes the value-added services and support packages that accompany the insurance policies, as well as the content of the actual policies. The products on offer run the gamut of the different insurance categories offered, and a lot of emphasis is placed on providing additional value, much of it free. There are information-rich brochures on each product available right there on the website. Everything is provided to help women make informed choices and then get quotes immediately. You can also manage your policy and claim online.
Let`s start with car insurance. There is comprehensive cover offered, as well as third party, fire and theft cover. Cover can be obtained for cars, motorcycles, trailers, caravans and watercraft. Then there is building and home insurance, including household contents and portable possessions. Value added products in these categories are a personal accident policy, a protection plan that covers family funeral expenses (which can be extended to include, parents, parent`s-in-law and domestic servants), premium waiver policy that covers your premiums while your estate is being settled. There is also a Polish Up policy that covers the cost of repairing cosmetic damage to cars, like chips, minor scratches and dents.
Insurance is not the only product that 1st For Women Insurance Brokers offers. Recognising that women have other specific needs, there are several assistance programmes available, like Medical Assist, offering free medical, roadside and trauma assistance. Entertainment Assist offers quick and easy access to information on entertainment events, help with restaurant and hotel bookings, and travel logistics. Road Assist is there to provide emergency roadside help, such as towing, locksmiths, flat battery assistance, fuel delivery, message service for family and friends, courtesy transport and help with sourcing mechanics and directions. The next free service is Home Assist, which gives women all sorts of help in household situations - all manner of handyman services are included. There is free call-out and 1-hour labour coverage on plumbers, electricians, locksmiths and glaziers. There is also a database of other services that you can draw on should you need them. Then there`s Legal Assist, which gives you free access to qualified attorneys for advice on certain legal matters - mainly contractual. Finally there`s Expo-Sure, which covers you in the event of accidental AIDS transmission, plus sexual assault after care assistance and counselling. You get free blood tests, anti-retrovirals, preventative STD medication, money towards additional security measures following assault, 24/7/365 access to a HIV/AIDS care centre.
Phew, that`s a lot of benefits - it`s hard to see why women would want to go anywhere else for their insurance - and certainly shows how thoroughly this insurance provider has prepared its packages for its clients. And we haven`t even mentioned the life cover yet! This comes in two forms - pure life cover (straightforward life assurance paying out in the event of the policy holder`s death) and credit life cover, which covers all outstanding debt of the deceased.
Business insurance is provided in the form of a number of policies, depending on the form of business. The categories are business women, professional women, women in practise and executive women. There is also a Business Assist product that includes the aforementioned medical and roadside assistance, plus expert HR and professional assistance, and emergency office assistance for things like repairs, appliances and emergencies.
In addition to all of this there is the Guardian Angel programme that provides protective assistance for women motorists in cases of a breakdown. These guardians patrol major arterial routes in Johannesburg 24 hours a day.
The 1st For Women Trust has been established to provide funding and support to organisations that promote the causes of women and assist in a variety of areas - People Opposing Women Abuse being a perfect example.
It`s abundantly clear that, as a woman, you`d be hard-pressed to find an insurance company that provides more benefits - not to mention lower premiums. This one`s almost a no-brainer.
PRODUCTS
Car insurance
Comprehensive cover; third party only; third party, fire and theft; comprehensive of-road vehicle cover.
Motorcycle insurance
Covers damage and theft, as well as third party.
Caravan insurance
Damage and theft, plus third party, and loose contents.
Watercraft insurance
Any damage to your craft, theft of, or accident. This includes third parties.
Building and homes insurance
Vast range of building types are covered - physical damage, including accidents, maliciousness and natural phenomenon.
Home contents insurance
Comprehensive cover for all your household possessions against theft and damage.
Portable possessions
Items that you carry around with you are fully covered by this policy.
Business insurance
There are 4 categories of this available - 1st for Business Women (e.g. book stores, retailers, salons), 1st for Professional Women (legal, accounting etc), 1st for Women in Practice (medical, dental, veterinary) and 1st for Executive Women (travel agents, estate agents etc).
Life insurance
The Pure Life cover product pays out in the event of the insured person`s death. There are 2 types: basic life and elevated life cover - the latter comes with a guaranteed assurability option in the event of your lifestyle changing.
Credit life insurance
Looks after any outstanding debt that you may have at the time of death
BEE AND CSI INFORMATION
The insurer is very active in the field of women`s issues, with its 1st For Women Trust, in association with women`s organisations. This initiative promotes and funds women`s causes in a variety of fields.
CONTACT DETAILS
Toll-free telephone: 0860 10 43 18
Quotes: 0860 10 43 18
Policy services:
Johannesburg: 0860 - 109 190
Pretoria NW: 012 - 452 3000
Pretoria SE: 012 - 452 3260
Durban: 031 - 366 8466
Cape Town: 021 - 527 8666
Port Elizabeth: 041 - 502 2662
Bloemfontein: 051 - 406 2211
Claims services:
Johannesburg: 0860 - 109 190
Pretoria NW: 012 - 452 3000
Pretoria SE: 012 - 452 3260
Durban: 031 - 366 8566
Cape Town: 021 - 527 8766
Port Elizabeth: 041 - 502 2666
Bloemfontein: 051 - 406 2222

Life Insurance info: 0860 10 97 59
Life Insurance Client Services: lifeservices@firstforwomen.co.za

Online Queries and Complaints:
complaints@firstforwomen.co.za or website form
Compliance: compliance@telesure.co.za

Physical Address:
1 Queens Road
Richmond
2092

URL: www.1stforwomen.co.za