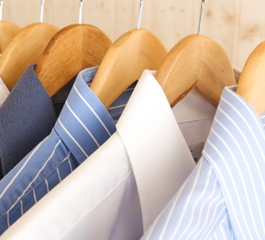 Survey shows that men tend to underinsure their wardrobe
This study was conducted by Quantam Risk Assessment.
An interesting survey run by Quantam Risk Assessment shows that men tend to underinsure their clothing more than women.
The study surveyed an impressive 40,000 South Africans over a 12 year period and found the men underinsured their wardrobes by a whopping 150%.
While the actual value of their wardrobe averaged at R56,340, men insured their wardrobes for only R18,740.
However, women also underinsured their wardrobes, albeit by 90%. An average woman's wardrobe is worth R71,366, and women tended to insure them for R35,683.
"There is a misconception that women's clothing is far more expensive than men's but often this isn't the case," said Christelle Fourie of MUA Insurance Acceptances.
"The regular assessments we conduct on our clients' possessions have shown that while men might not buy much clothing as their wives, they tend to spend more on a small amount of elect items," she said. "If you compare the price of a good quality men's suit or shirt, it can often be far more than expensive women's clothing."
South Africans who can afford it do not scrimp on top quality items. As such, luxury brand names have entered the market, including French shoe maker, Pierre Corthay, whose shoes sell from R10,000 upwards.
A Christian Louboutin dress could set a woman back at least R5,000.
South Africans do not realize the expense involved in replacing an entire wardrobe if a house is damaged by flood or fire for example.
"It is very easy to underestimate how much your clothes are worth," said Fourie, "especially if you bought them many years ago, so it is worth taking the time to obtain a proper valuation for your personal items such as clothes and handbags."