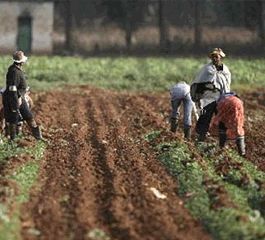 Calls for insurance for SA Farm Workers
President Zuma has said that most farm workers don't have insurance.
South African farm workers have poor working conditions that leave them vulnerable in the future.
This was the opinion of President Jacob Zuma as he spoke at the National Farm Workers Summit this week.
Of particular concern to the President was the fact that the workers have no type of insurance whatsoever, including Unemployment Insurance Fund cover.
This means that "their future is not secure," said that President.
"The status and conditions of women and children on the farms also needs attention," said Zuma. "Since this sector is often isolated, it takes long before practices such as child labour are uncovered., which calls for vigilance by government and non governmental organizations."
Many times, these workers do not have the means to organize themselves so that they are not strong enough to have their demands heard.
Zuma called on farm owners and the government to ensure that Bill of Rights in the South African Constitution apply to far workers as well, "especially provisions such as the right to human dignity."
He said that these parties needed to commit to work actively with farm workers to ensure that they enjoy these rights.
"They have the right to basic services, education, health, social security and a host of others," said Zuma.
The President reiterated that farm workers had the right to pensions, social grants and all social security measures that the state provides to qualifying citizens.
"We will know that we have achieved a lot as a democratic and progressive society, when farm workers enjoy these rights fully," he said.