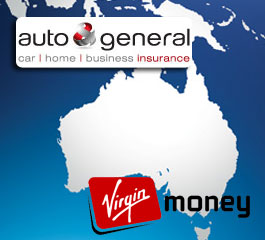 Auto and General has underwritten Virgin Money in Australia
They want to move into the Australian market and this has been seen as a golden opportunity.
A new car insurance brand that threatens to shake the competition in the Australian market has been launched.
The South African giant insurance group, Auto and General Insurance Company, has been chosen to underwrite the new Virgin Money car insurance.
Auto and General Insurance have indicated their desire to expand into the Australian market and this has been seen as a golden opportunity for the South African group.
According to Sir Richard Branson, who founded the Virgin brand in 1972, the new car insurance product would offer Australians up to 40% cheaper car insurance than the insurers who dominate the market at present.
Up to 75% of the Australian car insurance market is controlled by brands owned by Suncorp Metway and IAG.
Virgin Money's entrance into the market is set to shake up the current status quo and attract thousands of new customers.
Virgin believes that by the end of its first year of operations, it should have attracted up to 50,000 new customers.
The group is planning special promotions such as 13 months insurance cover for the price, and so forth.
Auto and General offer South Africans a wide range of car insurance products, as well as cover on residential estates, buildings, watercraft and many others.
Its car insurance incorporates offers comprehensive cover, third party, fire and theft, third party only and off road comprehensive insurance.