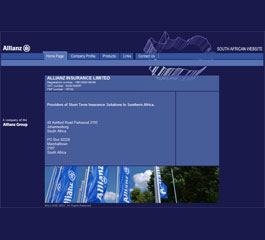 Allianz Website
On the Allianz website you can find out more about the company, it's products and contact details.
Allianz is a well-known international company that has impeccable credentials. It is part of an international banking, investment and financial services group that operates in over 70 international territories. The South African division is fully owned by the parent company and thus enjoys its full support and financial muscle.
Allianz primarily focuses on business insurance, and South African businesses have the option of insuring with its South African entity or with its international services. This makes it a perfect choice for companies that are based in South Africa that also have an international operational presence.
The company covers a wide variety of sectors, including specialising in property, logistics, food and beverage, media, telecoms, pharmaceutical, electrical, motor manufacturing, financial, logistics, leisure and financial services. It is especially strong and active in the industries of property insurance for a range of business types, marine and engineering insurance and liability insurance for all types of businesses.
While the central thrust of the company`s products is insurance in these sectors, there are also several additional products and services that it provides. It offers asset management and risk assessment. The latter is tightly tied to its insurance offerings, making it able to offer companies a very valuable mix of being able to help it to assess and manage risk, and at the same time provide insurance against these risks. There is also risk financing available as well as risk transfer services.
Other insurance options include personal insurance for company directors and other executive office holders, especially liability insurance. Particularly when it comes to listed companies, office bearers can find themselves personally liable to shareholders and accountability can sometimes extend to the courtrooms - this is cover designed to counter these risks.
PRODUCTS
The company offers tailored business insurance packages in the following areas:
Property insurance
Engineering insurance
Business liability insurance
Aviation insurance
Marine insurance
Personal liability insurance for company office bearers
Risk consulting
Risk financing
Alternative risk transfer
BEE AND CSI INFORMATION
As an international company, Allianz is still subject to BEE requirements, and has obtained the necessary government accreditation.
It is also very active in the support and promotion of community activities, albeit at the premium end of the spectrum. It operates the Allianz Centre of Technology, which is concerned with research and assessment of business risk, aiming to help companies reduce risk across a range of activities.
It is heavily involved in sport sponsorship, including most notable as a sponsor of a Formula 1 racing team, and is a Formula 1 Global Partner. It also sponsors the America`s Cup in yachting.
CONTACT DETAILS
Tel: (+27 11) 442 1111
Specific contact people are available on the company website:
URL: www.allianz.co.za