AllLife Insurance is a niche insurance provider that emphasises individual and personalised customer service, focusing on the details of your insurance needs, rather than providing one-size-fits-all packages alone. It specialises in life insurance, specifically for people living with HIV/AIDS. Lately it has also added similar products for those with diabetes. When it comes to more general life insurance it also acts as a life insurance administrator, administering life insurance products on behalf of insurance provider Centriq Life Insurance Company, which itself makes up part of the insurance services provided by Santam in tandem with Kagiso.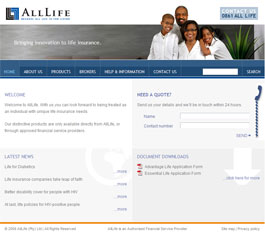 AllLife Insurance Website
On the AllLife website you can request a free quote, download application forms or read up about their products.
AllLife Insurance makes the most of its unique insurance product positioning, as it is one of the first companies worldwide to offer those comprehensive life insurance products to those living with HIV/AIDS. This comes in the form of direct life assurance policies, and the company also provides services that allow such people to be able to obtain home and business loans. In this way it not only makes life insurance available and affordable to this sector of the population, but also makes a valuable direct contribution to the betterment of quality of life and access to financial services for them.
Given the demographic and financial circumstances of the vast majority of people directly affected by the HIV/AIDS pandemic, of necessity the products offered are tailored for the entry level of the insurance market. Affordable, low cost insurance is a must for this demographic, and these are key features of the products that the company offers.
Its products are also linked with health management education and programmes that are aimed at assisting policy holders to manage their health and life quality in a proactive way, as part of dealing with living with the disease.
Within the central life assurance package for those with HIV/AIDS are 3 products. Firstly we have the Advantage Term Life product - life cover for a 10-year period. The lowest cost policy, it is primarily aimed at looking after dependents. Secondly, there is Advantage Whole Life, providing life insurance for an unlimited period. Within this is a choice of taking escalating or fixed premiums. Thirdly, there is Advantage Loan Protector, giving cover for policy holders` debts. In addition, policy holders can take out Advantage Disability Cover with all these three products
For diabetics there are Essential Whole Life Cover and Essential Loan Protector Life (similar to the ones for HIV/AIDS).
PRODUCTS
Life assurance for HIV/AIDS
Advantage Term Life, Advantage Whole Life


Life assurance for diabetes
Advantage Whole Life


Disability insurance for HIV/AIDS
Advantage Disability Cover


Loan Protection insurance
Advantage Loan Protector Life for HIV/AIDS and Essential Loan Protector Life for diabetes
BEE AND CSI INFORMATION
The company makes a direct contribution to one of the most pressing community issues in the country, by insuring those living with HIV/AIDS. As such one could almost see the whole company as being involved in a CSI initiative.
CONTACT DETAILS
Toll-free telephone: 0861 255 5433
Fax: 0866 126 595
Email: info@alllife.co.za
Physical Address:
39 Wierda Road West
Wierda Valley
Sandton
South Africa
Postal Address:
P.O. Box 787159
Sandton
2196
URL: www.alllife.co.za