Centriq is one of the new wave of South African insurance companies, offering modern-edged products that are at the forefront of the latest trends in insurance requirements and the provision to meet those needs.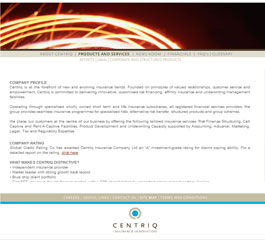 Centriq Insurance Website
On the Centriq website you can find out more about the company and the range of specialised insurance products they provide.
Centriq, true to its name, puts the customer at the centre of the experience. It`s this customer-centricity that is the first indication that you`re dealing with a company whose thinking is in tune with modern trends. It has also, as you`d expect of a latter-day South African company, taken an aggressive approach to black empowerment. It was the first black empowered company in the risk management sector, and is backed by a combination of Kagiso and Santam as majority shareholders.
The company focuses primarily on customising risk financing solutions for clients. In addition it addresses affinity insurance requirements and manages insurance underwriting on behalf of other insurance providers. It can count plenty of blue chip companies amongst the clients for its services.
Affinity insurance is all about the collective insurance of large groups of people who share common attributes among them. The company tailors solutions to meet the needs of various and different shareholders who have common risks and need to insure them. It provides a way for shareholders to share risks and to derive the benefits of avoiding volatility and controlling costs.
Within this is the field of consumer protection insurance, another product that the company offers. It`s particularly popular during times of increased economic pressure, as it offers companies that have large customer bases protection against bad debts - insurance of debtors books is part of the offering as well. This is offered as a value-added service. A typical example of how it works is a furniture shop that offers HP deals - it would take all-risk cover on goods purchased by customers, as well as repayment insurance to cover themselves in the event of customers being unable to make payments. This has the knock-on effect of protecting both retailer and customer - the latter can keep the goods and the former doesn`t lose out.
Also on offer are risk financing solutions, in the form of alternative risk transfer, which includes underwriting risks, credit risks and timing risk cover. These solutions can be tailored for individual companies.
PRODUCTS
Risk Financing Insurance
Risk insurance for businesses


Affinity Insurance
Risk insurance solutions for shareholder groups


Consumer Protection Insurance
Repayment and debt insurance cover for businesses
BEE AND CSI INFORMATION
The first black empowered company in its insurance sector, with substantial holdings from Kagiso. In terms of CSI the company makes significant contributions to marginalised groups of people through professional organisations like Twilight Street Children and Cotlands.
CONTACT DETAILS
Tel: + 27 11 268 6490
Fax: + 27 11 268 6495
Email: info@centriq.co.za
Physical Address:
First Floor
4 Fricker Road
Illovo
South Africa
Postal Address:
PO Box 55674
Northlands
URL: www.centriq.co.za