Coface South Africa is part of the international Coface Group of financial services companies that offer specialised trade and credit services and products to a global clientele. With more than 5000 employees and affiliates in 94 countries, Coface is the third largest global credit insurer and ranked fifth in receivables management and business information servicing.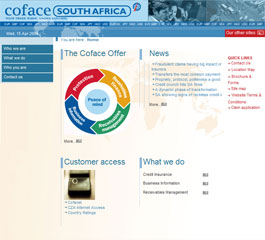 Coface Website
The Coface website provides a detailed breakdown of their products and services, and application forms that can be downloaded
Coface South Africa brings the benefits of world financial expertise to local corporate customers with a sharp focus on its core business of providing financial insurance cover, information and debt collection management services.
To meet the fast-paced demands of global markets and trans-national corporate trading, the company uses e-commerce technologies, international elements across its product offerings and works to consistently deliver an integrated and seamless service to its clients around the world. Brokers are equipped to provide the full service offerings to their clients so that communication and systems management are handled via a single source.
One of the trademarks of the company is the quality of their information serves. In today`s volatile markets, local and international financial information about trading partners, clients and suppliers is a vital component of efficient and profitable decision making. This is especially true if your business operates in the developing world where its not just local economies that can be volatile and trading practices are often in transition and development.
Debt and debt collection can have a time-consuming impact on company resources and be especially challenging across international borders. Coface has local and international professional debt collectors who operate with discretion to help you collect on overdue accounts. The company also offers credit assurance to protect you against credit risk. This service includes credit assessments and histories of prospective partners and service providers.
Products and services are handled by brokers and agents who are expertly equipped to handle your needs, whether your business is a large corporate or if you operate as a sole trader.
PRODUCTS
Credit insurance
Cover against bad debt and customer payment defaults; includes trade and credit assessment of customers, debt collection and client insolvency protection

Business Information
Financial services, assessments, information analysis and credit history information on customers and trading partners

Receivables management
Local and international debt claims made around the world by experienced professionals
BEE AND CSI INFORMATION
Coface South Africa follows BEE mandates.
CONTACT DETAILS
Physical Address:
Nyanga Office Park
Inyanga Close
Sunninghill
Postal Address:
PO Box 1657
Sunninghill
2157
Tel: +27 (0) 11 208 2500
Fax: +27 (0) 11 208 2600

Email: info@cofaceza.com
URL: www.cofaceza.com