Coronation Insurance offers a variety of financial solutions to its clients and is one of the top South African fund management companies. When you choose this company for your medium and long-term life insurance needs, you can put your capital into a long-term savings product, like a retirement annuity, or invest more directly into a unit trust fund for potentially faster gains and for easy access to your capital investment.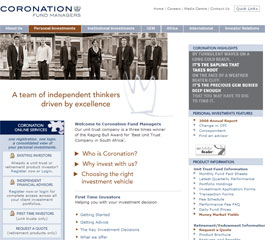 Coronation Website
The Coronation website provides a wealth of information about their products and services
Depending on your savings needs, Coronation Insurance will help you determine the best match of policies for your insurance and investment portfolio. This mix of financial products offers a variety of conservative and more aggressive savings strategies and lets the customer design a strategic and flexible use of their financial capital.
The company invests in a diverse portfolio of listed securities of shares, bonds, properties and in money markets across local and international markets. Since its inception in 1993, the company has received numerous awards in recognition of the high standard and ease of use of their products and services. It has received 40 Financial Mail / Standard & Poor`s Fund Awards and has won the Raging Bull Unit Trust Company of the Year Award three times.
It is simple to understand why. The company`s retirement and other long term savings products are easy to understand and offer great value for money with low administration fees. You won`t pay penalties if you change investment options and there are applicable options like the flexibility to alter your contribution schedule
Each savings product has been designed to deliver tax-efficient investment strategies that will help you achieve your medium and long-term financial goals. Whether you are saving for the future, aiming to grow your existing capital or meet a specific goal that will give you a lump sum payout, Coronation has a product to meet your needs.
You can manage your investments at any time of day or night via Coronation Online Services and there is a call centre where trained consultants will answer your telephonic queries.
PRODUCTS
Medium to long-term investing

Coronation Unit Trust Funds - a well-diversified unit trust fund that meets most investors` investment needs.
Coronation Endowment Plan - best-suited for investors with a minimum of a 5 year investment plan and offers marginal rate tax-payers preferential tax rates.


Pre-retirement planning

Coronation Retirement Annuity Plan - retirement planning for self-employed individuals or for those who want to supplement any previous pension or provident fund; has the benefit of penalty-free changes to payment schedules.
Coronation Preservation Pension Fund - maintains an individual`s tax benefits for those changing employment who made contributions to their employer`s pension or provident fund.
Employer pension and provident funds


Post-retirement income
Coronation Living Annuity - investment management of pension fund capital to give a retired client a regular income.
BEE AND CSI INFORMATION
The company adheres to BEE policies.
CONTACT DETAILS
Physical Address:
Seventh Floor
MontClare Place
Cnr Campground & Main Roads
Claremont
Cape Town
South Africa, 7708
Tel: +27 (0) 21 680 2000
Fax: +27 (0) 21 680 2100

Email: clientservice@coronation.co.za
URL: www.coronation.com