FirstRand, one of South Africa`s foremost financial services companies, is the majority shareholder in DirectAxis. In light of the latest trend for quick turnaround direct insurers, cutting out brokers and their associated fees, DirectAxis is one of many such companies. DirectAxis uses telemarketing and call centre agents primarily, ringing up customers over the telephone in a quick, easy and efficient manner. The customer gets his or her desired cover without complicated forms, broker commissions or lengthy red tape and bureaucratic administrative procedures.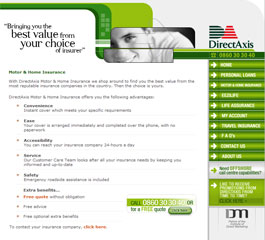 DirectAxis Website
On the DirectAxis website you can view their broad products and read about their personal loans
DirectAxis as a company offers a basket of insurance options, as well as unsecured loans. It offers life assurance, household insurance, car insurance, travel insurance, and a product called EEZiLIFE, which is a specific product designed as a low-cost, lower pay-out life assurance that includes funeral cover. The model that the company uses is to do the legwork on behalf of clients, sourcing various insurance options to fit the person`s requirements. These are then presented to customers for them to take the pick of what suits them the best, and what offers the best value for money. In this sense it can also be called an insurance aggregator.
The advantages of this are the convenience of easy access to cover that fits your needs, ease of application and accessibility, informed customer service, and free quotations and advice. This can all be sourced immediately via the company`s website, with all information clearly laid out and interactive tools available via a number of contact point options.
PRODUCTS
Direct Axis Personal Loans
Unsecured personal loans of up to R30 000


Motor & Home Insurance
DirectAxis deals with various insurance companies to find the client the best cover at affordable rates, via phone for the customer.


Life Assurance
DirectAxis has a range of life assurance products, including EEZiLIFE, to take care of various financial needs, including funeral policies


Offshore Division
DirectAxis` offshore division has experience in outsourcing products and services to the global market.
BEE AND CSI INFORMATION
DirectAxis is BEE compliant, in line with the legal requirements of companies operating in South Africa.
CONTACT DETAILS
Tel: 021 764 3400
Postal address: PO Box 44319, Claremont, 7735

Email: customerservice@directaxis.co.za
Website: www.directaxis.co.za