MyStyle Femsure is brought to the market specifically for women, in keeping with one of the latest trends in the insurance sector. It`s designed, marketed and administrated by Diagonal Insurance, not one of the giants in the insurance industry, but a dedicated and focussed company that has carefully designed its products to provide a good fit for your needs and good value for money. The parent company has its primary expertise in the field of insurance administration and it works through a network of specially selected brokers.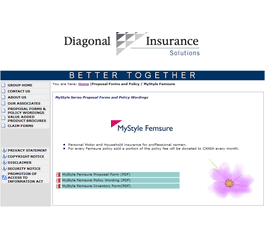 MyStyle Femsure Website
On the Femsure website you can read the policy documentation and find out more about the company.
MyStyle Femsure comprises motor and household insurance in affordable packages. They`re designed in the recognition that modern women face a variety of challenges and a unique set of lifestyle choices - juggling careers with demanding family situations, and maintaining active lifestyles with social lives to boot. These are flexible and comprehensive products with a variety of extra cover options. They`re the kind of insurance packages that give complete cover for all eventualities.
The two packages - household and motor insurance - don`t only provide basic comprehensive cover. There are also a number of value-added extras that come standard, and these are also especially planned to fulfil the needs of today`s active woman. With the motor insurance you get disability cover in the event of a road accident, as well as death cover for the same. Medical cover is also included, as well as emergency medical assistance and evacuation. In addition to all of this you get roadside assistance when you need it and travel insurance, plus legal assistance.
That`s not merely where it ends though - there are plenty of other built-in features that specifically address women`s requirements and their particular exposures to risk. One of the big modern scare factors is breast cancer, and these policies carry additional cover in the form of a cash benefit in the advent of this diagnosis. There is also cover for trauma as a result of a physical assault, and support lines for home assistance and child assistance. These additional features extend the policies beyond the points of traditional insurance, making them very attractive options for women.
Contact details and a link to the company website are provided below, so that you can take advantage of these offers.
PRODUCTS
Motor Vehicle Insurance
Includes death, disability and medical cover for accidents, emergency medical assistance and evacuation, and roadside assistance.


Household Insurance


Built-in Extras
All products come with:

Trauma support cover
Breast cancer cover
Home assistance
Child assistance
BEE AND CSI INFORMATION
The Diagonal Insurance company is BEE compliant, as well as being involved in making a difference in terms of women`s issues - specifically on the breast cancer front. It donates a percentage of all policy fees to CANSA each month.
CONTACT DETAILS
Telephone: 086 110 1038
Fax: 011 886 9420
Email: info@diagonalgroup.co.za
Head Office Postal Address:
P.O. Box 137
Ferndale
Randburg, 2194
Head Office Physical Address:
435 Rugby Avenue
Ferndale
Randburg, 2160
URL: www.diagonalgroup.co.za/mystylefemsure.htm