Guardrisk is a corporate insurance company that belongs to the Alexander Forbes stable. It takes a different approach to most insurance companies that service corporate clients. Its business approach focuses on cell captive insurance, which makes up the bulk of its methodology when servicing clients. Beginning in South Africa in 1992, it essentially pioneered the cell captive insurance market globally.

Guardrisk has an established and outstanding operating history. To add more services to its initial basket of cell captive offerings, it formed an actuarial team. Along the way it expanded into Namibia, Zimbabwe and further afield in Mauritius. Its holding company also bought Euroguard Insurance, which is a cell captive specialist company, operating out of Gibraltar. This effective added a new geographic string to its bow, allowing it to start operating in further flung financial services market.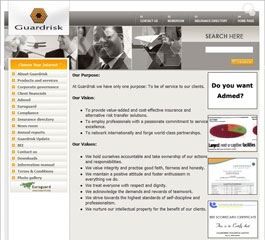 Guardrisk Website
On the Guardrisk website you can review all their products as well as access their financials and contact details
For those unfamiliar with the concept of cell captives, it works as follows. A cell captive insurer concerns itself with underwriting, investment management and the claims process. Often accounting services are also provided. Each client company is treated as a cell, effectively insuring themselves. So instead of taking out insurance with a third party company, clients form their own in-house micro-insurance companies, transfering money to this entity in order to build up a fund to cover insurance eventualities.
Guardrisk combines insurance with risk management in a 3-pronged manner. Within this is a strong emphasis on insuring the areas around risk exposure. Clients` positions are carefully evaluated, and on the basis of this solutions are tailored to suit each client. Typically these solutions contain three core aspects that cover the areas of predictable risk, preventative measures and catastrophic risk.
Throughout this process, Guardrisk has received accolades for the way it runs its business and for the services it offers. PriceWaterhouseCooper`s illustrious South African financial services survey place it as the "top alternative risk transfer" insurer in 2006. It has held A+ financial strength ratings for 3 years in a row. Guardrisk had the honour of being named the top captive insurance group in world for the year 2005.
PRODUCTS
Admed Gap & Admed Pulse
Both products cover various means of shortfall between medical practitioners fees and the National Reference Price List tariff

The Guardrisk Actuarial Team
Analyse both insurance and non-insurance related risks for your company.

The Finite Risk Programme
This programme matches an organisations assets against its liabilities in order to stabilise cash flow, increase insurance cover, and other appropriate planning.

Mining Rehabilitation Guarantees
Guarantees and financial planning for the environmental rehabilitation of land for mining.

Life Cover
A range of life assurance products

Underwriting facilities
Underwriting of various financial risk situations

BEE AND CSI INFORMATION
Guardrisk rates as a level five contributor on the Empowerdex rating system.
CONTACT DETAILS
Physical address:
4th floor,
Alexander Forbes Place,
90 Rivonia Road,
Sandton, 2146
Postal address:
PO Box 786015,
Sandton, 2146
Tel: 011 669 1000
Fax: 011 669 1931

Email: wilesp@guardrisk.co.za
URL: www.guardrisk.com