Lombard Insurance offers extensive financial protection products to corporations operating in a variety of industry sectors, including the mining, construction, energy and freight industries. Part of the Hollard Group of financial services companies, Lombard Insurance specialises in tailor-made solutions for the different needs of their clients. Its superior levels of consumer service have been recognised with an A+ rating on its claims payments management from the Global Credit Rating Company.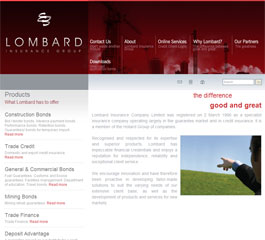 Lombard Website
The Lombard website provides access to its online services and forms as well as the products they have to offer
Lombard Insurance specialises in guarantee requirements for infrastructure service suppliers like General and Commercial Bonds for utilities, the freight industry, education resource providers and importers and exporters. The company employs the full range of its local and international expertise in assessing the liabilities of such risk cover. It has a no-nonsense, integrated approach to facility provision at competitive rates and is fully equipped to manage all aspects of your company`s risk insurance needs.
Even large and multi-national corporations experience debt and cash flow problems in these volatile markets and these problems can be passed onto your company in the form of your own bad debt concerns. The company offers a credit insurance policy for clients` debtors and also ensures cash flow to protect incomes and operations. There is also a policy available to cover your company`s overseas exports so you can manage your international clients and finance efficiently.
Mining is one of South African`s largest industries, both in the size of its turnover and the number of people it employs. And while the country enjoys considerable mineral wealth, it also has a rich natural bio-heritage and is ranked as the third most bio-diverse country in the world. The 2004 Minerals and Petroleum Resources Development Act mandates a mining or prospecting company to abide by various environmental management oversights and policies. On behalf of its mining company clients, Lombard Insurance provides the Department of Minerals and Energy with rehabilitation guarantees.
You can visit any of the company`s offices, call a broker or access its online services for further information about Lombard Insurance offerings.
PRODUCTS
General and Commercial Bonds
Full spectrum of guarantee facilities for industries such as: clearing and freight, fuel, utilities and importers and exporters.

Construction Bonds
A construction guarantee for large and developing companies to guarantee for bids, retention, performance guarantees, advance payments and more.

Mining Bonds
A rehabilitation guarantee for mining companies` land rehabilitation programmes in accordance with mineral resource development legislation.

Trade Credit
Risk cover for bad debt and cash flow management.

Trade Finance
Credit finance for raw materials and manufacturing products and includes payment guarantees to local and international suppliers.

Deposit Advantage
A financial guarantee for buying property that avoids the need for an upfront cash deposit and gives you the benefit of paying the full purchase price only upon transfer of the property.
BEE AND CSI INFORMATION
Lombard forms part of the Hollard Group of companies and is included in the Group`s BEE rating. Hollard has an Empowerdex FSC BEE rating of "A".
CONTACT DETAILS
Physical Address:
Ground Floor, Building C
Sunnyside Office Park
2 Carse O`Gowrie Road
Parktown
2193
Johannesburg

Postal Address:
P O Box 2740
Parklands
2121

Tel: +27 (0) 11 - 551 0600
Fax: +27 (0) 11 - 551 0603
URL: www.lombardins.com