Having grown from being a niche short term insurer, established in 1968 built to cater exclusively to home owners, Natsure has become the largest insurer of its nature in South Africa - that is to say, a local insurance company that concentrates on structure insurance for the industries of property and construction.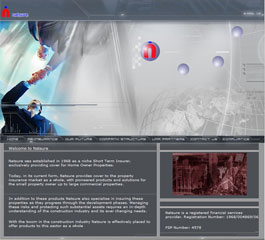 Natsure Website
Natsure's website provides a breakdown of their products and company as well as their contact information
Natsure evolved from its beginnings as a company solely focused on home owners to the situation today where it provides insurance for the entire property market. This runs the full spectrum from the largest commercial property companies to the personal home owners. Natsure insures fully developed properties, as well as risk cover during every phase of property development and construction.
The company has products that provide for requirements throughout the construction and property sectors. Specific examples that we can mention are comprehensive insurance of a general nature, all the way through to individual items like geysers and thatchwork. All types of different industries are also covered, including such areas as structural insurance in the education, hospitality and tourism industries. Specific types of housing are also covered, like townhouses. Sectional title owners can also have individual insurance products customised to meet their specific needs.
Using reinsurance to spread the risk and make certain of a solid base, Natsure can then take on projects that are extensive in size and scope. With this as a key business strategy, Natsure has time and again scored high above the regulatory limit when it comes to solvency, giving the company a stability that inspires confidence and security in its clients.
PRODUCTS
Structure Insurance
Property Insurance
Development Insurance
Construction Insurance
BEE AND CSI INFORMATION
Natsure Insurance is fully BEE compliant as well as being in complete compliance with FAIS requirements.
CONTACT DETAILS
Physical address:
3rd Floor, Hatfield Plaza North Tower
424 Hilda Street, Hatfield, Pretoria, 0083
Postal address:
P.O. Box 14098
Hatfield, 0028
Tel: 012 430 9700
Fax: 012 342 0133
Email: info@natsure.co.za
URL: www.natsure.co.za