Prosper Insurance is one of the newer types of South African insurance companies, with an approach that side-steps the usual marketing and PR approach that many if its rivals take. It`s approach demonstrates the more constructive changes in the industry in recent years, with a more transparent approach to terms and conditions.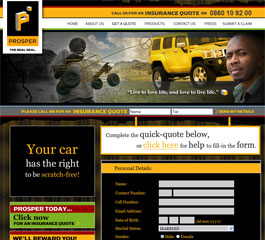 Prosper Website
On the Prosper website you can get a free quote, submit a claim and view their insurance packages
Having said that, the company has positioned itself as a premium insurer with a serious approach to its market. It has solid and comprehensive short-term insurance packages, on offer, which can be supplemented with add-ons. Prosper Insurance concentrates on short-term insurance and has an innovative rewards programme for clients, as well as offering credit protection and shortfall protection.
General insurance cover for motor vehicles, motorcycles, home contents cover, portable possessions cover, and permanent structure cover are all offered. You can also take insurance for other vehicles (trailers, caravans, watercraft). The motor cover option is comprehensive and you can also get fire and theft cover, 3rd party cover options and cover for off-road vehicles and excursions.
Home and portable contents include cover against loss or damage, and death in the act of a break-in. You can be protected against credit card fraud. In fact the depth and breadth of cover is pretty exhaustive - the company`s website gives all the details.
The Prosper Assist and Protection Plan gives you roadside and medical assistance, and there is also a legal support option. If you have had your policy continuously for 4 years with no claims, then you`re also eligible for a no-claim bonus.
PRODUCTS
Motor cover
You have the option between comprehensive cover, 3rd party fire & theft, 3rd party only, and off-road comprehensive.

Motorcycle cover
Comprehensive cover includes claiming for motorcycle accessories if stolen with the motorbike

Watercraft cover
This includes the option to claim for water-skier liability as well as the navigator

Trailer cover
Includes claiming for damage caused to other parties and their property

Caravan cover
Includes optional caravan contents cover

Portable possessions cover
Covers bicycles, prescription glasses, contact lenses, cell phones and more

Home contents cover
Even includes your guests` belongings stolen in your home

Buildings cover
Includes fire brigade charges

Prosper Assist
Emergency assistance and support services is included with all policies

Value Added products
Personal accident cover, funeral protection plan, cellphone insurance
BEE AND CSI INFORMATION
Prosper Insurance is a company that has focussed on BEE compliance as a matter of course, given its approach of adhering to modern principles of the SA economic sphere.
CONTACT DETAILS
Physical address:
17th Floor
25 Owl Street
Milpark
Johannesburg
2092
Postal address:
P.O. Box 11250
Johannesburg
2000
Call centre: 0860 10 92 00
Tel: (011) 489 4900
Fax: (011) 489 4425
URL: www.prosperinsurance.co.za