Regent has a singular focus on vehicle insurance. This makes it able to provide a good range of products and services, including a number of value-added products to enhance your motor insurance options. As it only focuses on this sector, it has developed a high level of expertise over the years, since its inception in 1989. From the start the company set out to make its mark in the underwriting and provision of motor vehicle insurance. It has grown into a very successful insurance provider - proof positive that the business saying "stick to your knitting" pays off - for both the company and its customers. It now has a yearly turnover in excess of R1 billion, and provides its insurance products and services through a network that stretches across the country. It is a wholly owned subsidiary of the Imperial Group, and the company has an AA- rating by Global Credit Rating Company.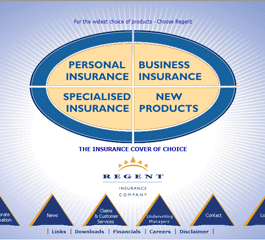 Regent Insurance Website
On the Regent website you can find out more about its motoring products as well as client services.
This network functions through the motor vehicle dealerships - although the company also deals through a certain number of vetted brokers. Despite the fact that the core product is motor insurance, there are also a couple of personal line insurance products, such as household goods insurance and small to medium business cover. But the real meat of the offering is motor vehicle insurance.
Regent divides its products into 3 sectors. There is a personal motor insurance line, a business motor insurance line, and a specialised motor insurance line.
Starting with the personal insurance line we find a range of products. The central product here is comprehensive motor insurance - this covers all cars, as well as light delivery vehicles, motorbikes, caravans, trailers. It`s designed to cover your vehicle for personal and business use. If you`re a motorcyclist and you prefer to have a dedicated motorcycle insurance policy, this is available as well. For all vehicles there are also value-added products in the form of deposit cover, credit shortfall insurance and various types of roadside and medical assistance packages.
On the business insurance side, there is commercial vehicle insurance for heavy vehicles, which includes insurance for goods in transit, passenger liability, commercial top-up insurance, and spillage and clean-up insurance. You can also get a combined commercial and industrial policy that provides insurance for small to medium commercial and industrial businesses in all classes of insurance. In a clear response to market needs, there is also a dedicated policy providing cover for commercial taxis.
There`s a whole host of specialised insurance products and services available - these are all listed below for you. There are also a couple of newly launched policies, which give you cover for luxury and exclusive vehicles, and distance related insurance premiums, where premiums are based on average distance travelled, which is a nice new innovation.
PRODUCTS
Personal insurance
Comprehensive motor insurance, Adcover credit shortfall insurance, deposit cover, motorcycle insurance, domestic insurance policy.


Business insurance
Commercial vehicle insurance, commercial and industrial business policy, motor insurance for taxis.


Specialised insurance
Aviation insurance, car hire insurance, marine insurance, travel insurance, tyre insurance warranty, Paint Tech insurance, Mastercar warranties, Royal Care mechanical warranties


Majestic Motor Insurance Policy
Exclusively for vehicles costing between R800 000 and R5 million. This is for one driver only, and mileage is restricted to 16 000km per year.


Distance related insurance premiums
If you prefer you can take out insurance where premiums are based on the distance you travel per month - the first 500km are free, and you then pay for distance travelled up to 2 800km. There is a fixed monthly portion to the premium with an adjustable portion based on the distance you travel.
BEE AND CSI INFORMATION
As part of the Imperial Group, the company satisfies BEE requirements, and is involved in a number of empowerment and community initiatives.
CONTACT DETAILS
Care Line: 0 800 00 48 48
Call Centre: 0 861 90 08 01
Head office telephone: (011) 879-0400
Head office fax: (011) 453-9533
Physical Address:
146 Boeing Road East
Elma Park
Edenvale
1609
Postal Address:
P.O. Box 674
Edenvale
1610
URL: www.regent.co.za