Previously a subsidiary of the European Reliance National Insurance Company, Renasa Insurance holds a full licence in South Africa to carry out business as a short-term insurer. It was officially founded in 2002 after a shareholder buy-out. Renasa`s reinsurance is thanks to an association led by Munich Re and has enjoyed a solvency margin of 43% since 2006. The Global Credit Rating Agency awarded it a BBB+ rating.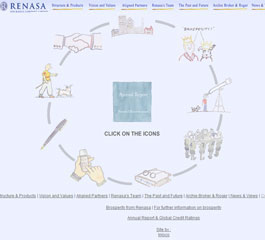 Renasa Website
On the Renasa website you can learn more about the company, their products and get in touch with them
Renasa Insurance divides its South African business into geographical regions. There are 3 of them: KwaZulu-Natal, Cape and Central. It`s range of insurance products and services cover everything from the standard types of domestic insurance and commercial insurance, veering off into more specialised cover like guarantees and bonds, agricultural insurance, marine insurance, machinery insurance, risk insurance for various types of contractors, and solutions aimed specifically to address the insurance needs of previously disadvantaged communities.
Using a network of brokers as its primary method of marketing, the company promotes its commercial and domestic lines. Dedicated portfolio managers provide commercial insurance using risk and reward sharing structures. Specialist underwriting management agencies furnish the construction and marine industries with primarily performance guarantees and all-risks cover, amongst other services. Outsource agreements with administration partners take care of the company`s insurance administration needs.
Renasa has entered into a distinctive arrangement with Aon Re in Africa as a technical partner, which essentially means that Aon Re`s international infrastructure is now available to Renasa. Renasa`s reinsurance programme benefits from this arrangement as well.
PRODUCTS
Property insurance
Machinery breakdown insurance
Contractors all-risk insurance
Guarantees and bonds
Marine insurance
Agriculture insurance
BEE AND CSI INFORMATION
Renasa has made sure to fulfil its BEE requirements as per the BEE charter. It has focused specifically on developing products according to these requirements as well - like products for markets covered by BEE brokers, and for previously disadvantaged communities. It also has an in-house mentorship programme.
On the CSI side it sponsors RITE - Renasa Insurance Training and Education - which is the basis of the "Alphaland" programme. This is an education initiative that helps to lay a solid foundation for future learning.
CONTACT DETAILS
Physical address:
Renasa House,
170 Oxford Road,
Melrose,
Johannesburg
Postal address:
P O Box 412072,
Craighall, 2024,
Johannesburg,
South Africa
Tel: 011 380 3080
Fax: 011 380 3088
URL: www.renasa.co.za