Sasria Insurance is a unique company for a unique country. Established in 1979 as a response to South Africa`s political unrest of a few years earlier, this Section 21 company`s goal is lessen the negative financial impact of social disruption and unrest on businesses by providing the kind of risk cover often excluded from standard risk insurance.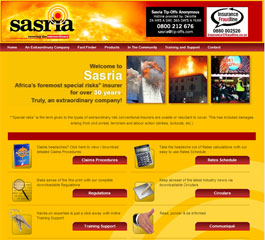 Sasria Website
On the Sasria website you can review their rates schedule, view the claims procedure and learn about the organisation
Sasria Insurance - the South African Special Risks Insurance Association - is designed as an add-on to existing insurance cover to give clients surety as South Africa works to overcome the social and economic challenges that are the legacy of its past.
The country has a history of political and social activism, and mass action can result in severe damage to property and losses in productivity and income. Sasria Insurance is specifically tailored to meet businesses` need for financial protection from such events. We are all familiar with the standard exclusion clauses in many insurance policies that state you may claim for damages except in the cases of civil disturbance, terrorism and civil unrest. The company thus goes boldly where many fear to tread by providing cover for property damage caused during civil unrest such as political marches, labour strikes, lockouts and civil protests. Risk cover for wars is excluded.
Along with cover for motor vehicles, material and property damage, clients can select cover for construction plants, business interruptions as well as goods in transit via sea and land. Marine cover will need to be negotiated specifically with Sasria on an individual needs basis as marine insurance does not normally include cover for civil unrest.
In order to obtain cover with Sasria, the customer must first have a conventional insurance policy for their business. Sasria will then provide add-on benefits to that insurance product and relevant Sasria claims on that policy are processed by the primary insurer. The Sasria premium amount is a small percentage of the premium amount paid over to conventional insurance entities.
The encompassing goal of the company is to help nurture and support positive growth and change in South Africa by providing risk cover that offers surety in an unsure world.
PRODUCTS
Consult your insurance broker for information about how to access Sasria insurance products.
BEE AND CSI INFORMATION
The company fully adheres to BEE mandates.
In its CSI strategy, Sasria is involved in the SA Actuaries Development Programme. Six years ago, there were no black actuaries in South Africa and this programme identifies and develops black actuarial students to redress that situation. The company has a holistic approach to CSI and supports the students financially and emotionally.
CONTACT DETAILS
Physical Address:
47 Wierda Road West
Wierda Valley
Sandton
2196
Postal Address:
P.O. Box 7380
Johannesburg
Gauteng
South Africa
2000
Tel: +27 (0) 11 881 1300
Fax: +27 (0) 11 783 0781

Email: info@sasria.co.za
URL: www.sasria.org.za