Sentrasure Insurance provides you with a personalised, comprehensive insurance package tailored to all your short-term insurance needs and is backed by the financial security and expertise of its parent company, Mutual and Federal. This giant of the South African insurance industry provides a solid foundation of capital and products that combine with the Sentrasure Insurance approach to personal service to your insurance needs that will give you freedom from worry and excellent value for money.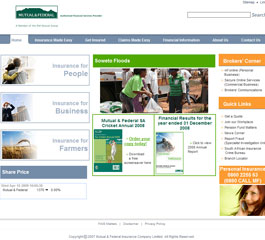 Sentrasure Website
On the Sentrasure website you can find the insurance product that matches your needs, as well as contact information
People really do come first, with products tailored to individuals and small to medium size businesses.
Allsure is an all-in-one product designed to be a comprehensive package for all your personal short-term insurance needs. This diverse product includes household and motor insurance, accident and all risk insurance for individuals with the additional benefits of coverage of legal costs, bereavement expenses and personal cover.
And for business consumers, the products are also tailored to meet your needs. If you have a small or medium-size business, you will benefit from the company`s personal service and advice along with short-term insurance against theft, accident liability, fire damage, fidelity insurance against employee dishonesty and you can cover your business fleet with comprehensive motor insurance.
At the core of the company is its commitment to personal service and advice, value for money and customer satisfaction. There is a national call centre you can contact for quotes and advice and you can also apply for a quote online. The claim process is simple as well - you can make your claim online and if you have a motor insurance claim that does not involve a third party and is for a lesser amount, there is a fast tracking service using approved suppliers
With the security of the strong financial foundations of its holding company, its long-term expertise and high levels of customer satisfaction, this is an insurer that provides individuals and businesses with financial protection across all your short-term insurance needs.
PRODUCTS
Individual insurance
Motor vehicle insurance
Household insurance
Accident insurance
All-risk for individuals
Personal cover
Legal costs
Bereavement expenses
Allsure product - all-in-one comprehensive personal short-term insurance
Commercial insurance
Cover for small and medium businesses
Motor vehicle insurance
Accident liability
Fire damage
Fidelity insurance against employee dishonesty
Theft
BEE AND CSI INFORMATION
Mutual & Federal, the Sentrasure Insurance holding company, is one of the country`s leading black-empowered short-term insurance companies. In the 2007 Top Empowerment Companies Survey, the company was at the top of the list for skills development.
On 1 August 2005, 11% (R663million) of the Group`s equity was transferred to black business partners, thus fulfilling the Financial Services Charter, signed by Mutual & Federal and other major financial stakeholders in October 2003. This Charter commits participants to transform their businesses in a number of fundamental ways to redress the economic and social imbalances of the past.
The parent company, Mutual & Federal, has made a strong commitment to their CSI. Their Corporate Social Investment programme financially supports 26 social development organisations in long-term partnerships that are geared towards sustainability and tangible developmental benefits. The organisations work to improve people`s quality of life, help grow economic stability and enterprise development and better all aspects of social growth and development.
The company focuses their CSI commitments in these areas:
Conservation & the environment
Crime prevention
Education
Health and welfare
Road traffic safety
CONTACT DETAILS
National Call Centre - Quotes & Claims:
0860 - 2255 - 63 (0860 CALL MF)
Physical Address:
Head Office - Mutual & Federal
Mutual & Federal Building
75 President Street
Johannesburg
Postal Address:
PO Box 1120
Johannesburg
2000
Tel: +27 (0)11 374-9111
Fax: +27 (0)11 374-2652
Email: contact@mf.co.za
URL: www.mf.co.za