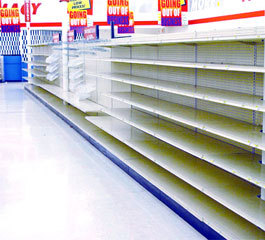 Liquidation statistics for last year show a huge increase
The number of businesses liquidated jumped from 206 in 2007 to 347 in 2008
A senior economist at Credit Guarantee Insurance Corporation has shown just how bad economic conditions reached in 2008 by comparing the number of business liquidations to the previous year's statistics.
Luke Doig said that official liquidation statistics showed a nearly 70% increase in the number of businesses that reached sequestration in a year on year comparison.
"No clearer indication of the extent and impact of the slowdown in economic reality is required than by referring to these statistics which leapt 68.4% year on year (206 to 347) taking 2008's total 4.7% above that recorded in 2007 (3300 versus 3151)," said Doig. "This is despite the normal volatility in these figures, and the fact that December is traditionally a sluggish administrative month."
Doig said that real sales were down by 2.4% for the November to January period, showing how badly impacted the buying power of individuals was.
He also said that those who were looking for a bit of respite from lower petrol prices should not become too optimistic. "Final Christmas sales are yet to be released and although some respite was offered by falling fuel prices, this will be reversed in February 2009 when petrol prices may rise by as much as 55%," warned Doig. "Thankfully, diesel prices could enjoy a possible 10 cents per liter reduction and add further pressure to calls for producers, manufacturers and retailers to pass on cost savings."
Doig said that he expected 2009 to get off to a poor start. "Advised overdue accounts for our policyholders for January 2009 was 27% higher in number terms and 70.9% in value, while actual claims paid climbed 23.4% and 79% in value and rand terms respectively," he said. Nevertheless, he predicted improvements to the economy by the middle of the year.