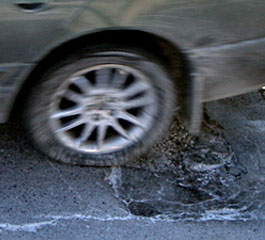 Watch out for potholes
With the poor state of the roads, insurance companies are receiving more claims for pothole damage
The road situation in many South African local councils is far from perfect, and a main cause of much vehicle damage are potholes. In an innovative project launched by Empowerment Gateway, Adopt-a-Pothole program is set to alleviate a number of problems at once - it will provide employment for the locally unemployed, improve the road infrastructure and reduce insurance claims from residents for damage caused by road damage.
The Adopt-a-Pothole program is the answer to the government's needs to assist in alleviating poverty and unemployment on the one hand, while still dealing with improving road infrastructure on the other hand.
The government has repeatedly asked the business sector and civic society to help solve these issues and the Empowerment Gateway organization has been the first to answer the government's calls for assistance.
Empowerment Gateway aims get the private sector involved too, but asking businesses to sponsor and become custodians of the project. The logic is that proper local infrastructure is an essential part of one's every day life and that on-going maintenance of roads reduces the level of insurance claims against local authorities for road damage to vehicles.
The AA has reported that vehicle parts which are usually damaged by bad road infrastructure are shock absorbers, axles, tyres and wheels. In addition, if a driver is forced to break suddenly or make a jolt movement with his car to avoid a pothole, this can result in other serious damage to both the car and the driver or passengers.
Insurance companies confer that the state of South African roads in some areas is dismal and there has been an increase in the number of insurance claims for pothole damage recently.