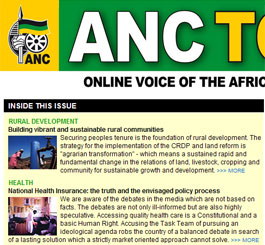 ANC Today speaks about the NHI
The latest volume of ANC Today explains the NHI and tries to resolve speculation raised during recent debates
The ANC recently clarified some confusion relating to the proposed scheme for national insurance which was made during President Jacob Zuma's State of the Nation address. The clarification regarding the NHI appeared on the ANC's website.
During the speech, President Zuma stated that the government would introduce a National Health Insurance scheme over the next few years, in a phased manner. He also stated that the first step before implementing the NHI would be to rehabilitate South Africa's hospitals, which is urgently required.
The topic of the introduction of a national health scheme was in the planning stage for a number of years. Already at the ANC's 2007 National Conference it was resolved that there would be an "implementation of the National Health Insurance System by further strengthening the public health care system and ensuring adequate provision of funding."
The aim of the NHI is to balance health care within the country, the ANC explained. The public health system is suffering from a great under funding which has lead to the "deterioration in the conditions of the state facilities, decline in the quality of care and exodus of skilled personnel."
The ANC explained that the formerly "whites only" hospitals always had better facilities and the "blacks only" hospitals were under funded. Due to the current situation in public hospitals, many are looking for private health care, which has become unaffordable to most South Africans.
The NHI's plan is to "create a mechanism to level the playing field and create equitable distribution of resources resulting in high quality of health services for all the people."