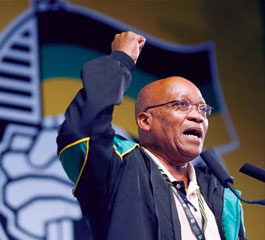 President Jacob Zuma gave a speech this week
In his speech he warned that there will be a slow economic recovery.
For those eyeing investment options in South Africa, it may be important to note a speech given by President Jacob Zuma this week.
Opening the political campaign for his ruling African National Congress party, Zuma told thousands of ANC members that South Africa would be slow to recover from the recession.
As a result of the current state of South Africa's economy, Zuma said that his plans to create hundreds of thousands of jobs may be difficult to carry through.
At present, one in four South African adults are unemployed due to the recession.
Last year Zuma pledged to create four million jobs by the end of 2014, but he was unable to find the 500,000 jobs that he had promised to create by the end of 2009 because of the poor economic conditions in the country.
"There are some indications that we may be recovering from the worst of the crisis but this recovery may be slow and perhaps even temporary," warned Zuma in Kimberly.
Zuma also said that the creation of new jobs on a massive scale would lag behind the economic recovery.
The President called for unity and understanding among citizens of South Africa, especially as the country begins to act as host for one of the most spectacular sporting events in history.
While many industries are suffering because of the economic downturn, the construction industry is booming due to building on a massive scale taking place throughout the country.
The ANC is celebrating its 98th year of existence.