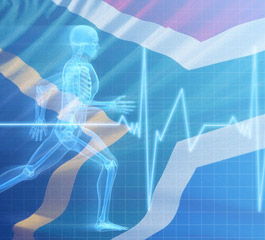 Media briefing to be held on Tuesday regarding NHI
The South African health minister will hold the briefing.
Unconfirmed reports have it that Dr. Aaron Motsoaeldi, South Africa's Health Minister, will introduce the long awaited National Health Insurance scheme in a cabinet meeting today.
Speculation is high that he will then hold a press briefing the following day, allowing South Africans to hear details about the proposed NHI for the first time from an official source.
The proposal will oversee the introduction of the NHI, parallel to massive efforts made to improve South Africa's health system over the next five years so that it can support the new scheme. Major changes will need to be made to areas such as human resources and management, as well as infrastructure for the system to meet the new demands.
It is believed that there will be a marked shift from a hospital-based curative approach to a clinic and community healthcare system.
The proposal will see funds contributed according to how much a South African earns, and care received according to the person's needs.
Bad Leadership Leads to Bad State of Hospitals
Earlier this week, Dr. Motsoaledi admitted that the bad state services in South Africa's hospitals was due to bad leadership. As such, he called for an end to the current model, where hospitals are run like businesses.
"I certainly don't affiliate to that type of thinking," he said. "Hospitals are not business entities. They are social entities."
He pointed out that some of the country's hospitals are managed by employees who fall under Level 8, someone who is deemed at junior level who does clerical work in the public service rankings.
"How can a person at the level of clerical be the head?" asked Dr. Motsoaledi.
He said that in the future, no hospital will be managed by anyone at a rank that is lower than level 12. In addition, central hospitals would need to be managed by someone at level 15 or higher.