African Life Insurance used to be an independent life insurance company, but has since been taken over by insurance giant, Sanlam. This hasn`t changed the company philosophy or approach though - in that its affordable entry level life insurance products are still available, through the Sanlam brand.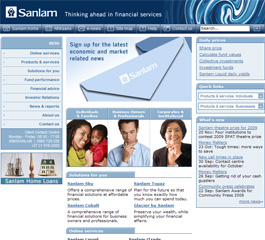 African Life / Sanlam Website
On Samlam's website you can learn more about their products, find their contact info or use their online services
Aflife, as it has sometimes been known, is 100% black-owned, and has therefore added to the BEE credentials of its new parent company - in a properly empowered way, rather than just being window dressing.
In addition to operating in the life insurance field, it also offers health insurance cover as well as estate planning and personal finance management. In its history the company operated all over Southern Africa, holding ownership and interests in several financial services and insurance companies in the region. These include Life Office of Namibia and Botswana Insurance Holdings. Besides these, the company also operates in Lesotho, Kenya, Ghana, Tanzania and Zambia where it administers an AIDS insurance scheme. These holdings and operations have theoretically been ceded to the holding company.

African Life Insurance has as its basic foundation the provision of affordable life insurance to that sector of the market that has previously found it difficult or impossible to afford life insurance. This is often refered to as the under-insured market, or the uninsurable market. However the company took the view when it started that this was a good market to enter, both from the perspective of being able to get a good return on its investment, as well as from a social responsibility angle: there aren`t necessarily iron-clan reasons why not everyone should be able to afford insurance. The company made this the thrust of its approach, and it has paid off with a successful client base, and the latter day acquisition by one of the biggest companies in South Africa.
The product set has now been folded in with that of Sanlam. This means that there are still entry level life insurance packages on offer, as well as the LifePower range. The latter is the life and health insurance product for people who are living with HIV/AIDS. This ground-breaking product can be used by people as collateral against which to get home loans and business loans. There are also death benefits, and estate planning and administration.
To get access to these products, you can simply go to the Sanlam website, where there is full contact information, as well as detailed product information.
PRODUCTS
Life insurance
Comprehensive life insurance that is affordable for the entry level market and those who have previously been unable to secure it.


HIV/AIDS cover
Cover for those living with HIV/AIDS - including death benefits and home and business loan collateral.
BEE AND CSI INFORMATION
The company is now part of Sanlam, and in so doing it has made a significant contribution to the parent company`s BEE standings, as a wholly black-owned company. It is also now part of Sanlam`s vast community development and investment initiatives.
CONTACT DETAILS
Client Contact Centre: 0860SANLAM / 0860 726 526
Fax: (021) 947-9440
Email: life@sanlam.co.za
Sanlam Head Office
Physical Address:
2 Strand Road
Bellville
South Africa
Postal Address:
Sanlam Head Office
PO Box 1
Sanlamhof
7532
URL: www.sanlam.co.za