Global insurance group, the American International Group is based in over 130 countries worldwide, including South Africa, where it is represented by AIG South Africa. Being supported by assurance behemoth such as the American International Group, which itself is listed on the New York Stock Exchange, as well as in all the major financial centres worldwide - London, Tokyo, Switzerland and Paris - means AIG South Africa is one of the sturdiest insurers in the country.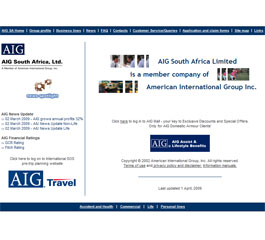 AIG Website
On the AIG website you can find out more about their products, view their contact details and download claim forms
Whether you`re searching for insurance as an individual or a business, AIG South Africa has a range of insurance products that comprehensively covers both short and long term insurance needs.
When it comes to personal insurance, AIG South Africa offers personal motor insurance, house owners` and householders` insurance, personal accident and motor insurance, as well as property loss cover. Identity theft is also part of its personal portfolio.
For business professionals products on offer are accident and health insurance, business property coverage, crisis management planning (such as hazard consulting, continuity planning and business intelligence services), employers` liability coverage and advice, life insurance and management liability coverage. Thanks to AIG South Africa`s international extensions, they are also able to offer advice and services in 130 international territories.
Retirement options and mutual funds are part of AIG South Africa`s financial portfolio. Although consumers can approach AIG South Africa directly for advice, the company does tend to deal through brokers, and offers a range of advice on how best to service their customers.
Being part of a contemporary corporate society means that AIG South Africa is proud of its participation in community growth. Graduate development programmes contribute to BEE, while the company also has in place environmental and disaster relief initiatives.
PRODUCTS
Personal Motor Insurance
Comprehensive vehicle insurance - accident, damage and theft.

Personal Accident Insurance
Income protection, hospitalization, leisure travel, education fees, spouse retraining, special nursing care, critical illness, home conversion, trauma, and more.

Commercial Insurance
Covering everything from auto to all risks for plants

Health Insurance
Available on for the individual and the professional

Life Assurance
Offering structured investment solutions with predefined benefits
BEE AND CSI INFORMATION

AIG South Africa has taken on the agenda to work to address previous inequalities and introduced the Graduate Development programme several years ago. A comprehensive one year training and development programme which seeks to point young black graduates towards working in the insurance industry and moving them into responsible positions in the industry has been running successfully for several years now.
AIG SA also contributes to local communities in a variety of ways.
CONTACT DETAILS

Head Office
Tel: +27 11 551 8000/1
Fax: (011) 551 8653
Email: infosa@aig.com
URL: www.aig.co.za