Alexander Forbes Insurance offers a variety of financial and personal insurance packages that are made available to clients using traditional marketing channels as well as the latest ones, like the Internet. It also usings modern call centre technology to provide a complete customer service solution. The company concentrates its efforts on the South African and UK markets, doing business using its network of subsidiaries and partners. It`s a listed company on the Johannesburg Securities Exchange, with a long history going back to the decade of the 1930s, when it started out as a life insurance and pension brokerage.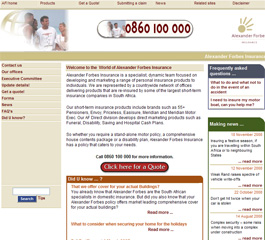 Alexander Forbes Insurance Website
On the AFI website you view their products, download forms and complete a quote online.
Alexander Forbes focuses on certain specific areas when it comes it insurance and reinsurance. Besides offering actual insurance products the company is also involved in managing both group insurance and individual insurance. To do all of this it runs offices across South Africa, and uses personalised meetings with clients as well as the aforementioned call centre and online mechanisms.
The insurance products themselves are dedicated motor insurance products, combination motor and home insurance, and local and international travel insurance. It serves the general insurance market, and at the same time there are premier products that are aimed at the luxury and higher ends of the market.
Turning to motor insurance first we find two products, Easisure and Meridian. The first one is for any motor vehicle and can be tailored according to your needs. The second is a specialist motor insurance package for Mercedes owners.
The first combination home and motor insurance product is Priceless. This lets you choose an insurance that fits your lifestyle needs. It provides wide cover that also comes with free additional assistance benefits, like motor service, roadside assistance, medical assistance, accident management services and emergency home assistance. Then there`s Envoy, for individuals of high net worth, which gives a range of high-end benefits, like broad risk cover, premium reductions, complimentary valuations, expert advice from personal advisers, 24-hour emergency service and up to R20 million personal liability cover. The third package is 55Plus, which is motor and home insurance for those over the age of 55. Finally there is Thatchlink, which provides specialised cover for thatched homes.
Travel insurance comes in the form of local and domestic travel cover.
PRODUCTS
Motor Insurance
Easisure for general motor insurance and Meridian for Mercedes owners.


Home and Motor Insurance
Priceless for general home and motor insurance, Envoy for high worth people, 55Plus for those over 55, and Thatchlink for thatched homes.


Travel insurance
For domestic and international cover
BEE AND CSI INFORMATION
The company is BEE compliant, promoting various aspects of the relevant regulations inhouse. It runs the Alexander Forbes Community Trust that benefits various rural and urban community organisations, including a long list that support the elderly, the disabled and those living with HIV/AIDS. It also contributes to organisations in the fields of education, the environment and women`s issues.
CONTACT DETAILS
Toll-free telephone: 0860 100 000
Tel: (012) 452 7222
Fax: 0860 100 001
Email: customercare@aforbes.co.za
Physical Address:
Alexander Forbes House
189 Clark Street
Brooklyn
Pretoria
0181
URL: www.afi.co.za