Altrisk is a long-term risk insurance specialist. It is part of the huge Hollard Insurance group, as well as having backing from Hannover Life Re - so its financial credentials and underpinnings are first-class. This is even more critical in times of financial uncertainty - that you can be assured of a solid financial backing to the company that you choose as your insurance provider.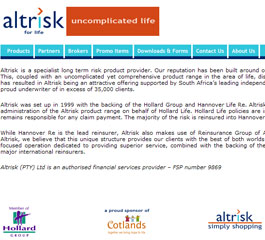 Altrisk Insurance Website
On the Altrisk website you can read up on their product offering and download application forms or view their contact details.
Altrisk specialises in life assurance, disability cover and dread disease cover. It has a thriving underwriting business at its core, and in fact is used as an underwriter by many other South African insurance companies. Not only that, but its association with Hollard extends to it being the main underwriter for that company. As a reinsurer it uses Hannover Life Re, in combination with the Reinsurance Group of America.
Specifically the products contained in the company`s risk insurance packages are concentrated on accidental death insurance, along with both general and deferred life cover (the life assurance component); disability cover that includes impairment cover and comes with add-ons and premium waivers as optional extras; dread disease insurance; a flexible risk package that includes income replacement cover and trauma cover; and female protector, which provides for the specific risk cover needs of modern women.
Dealing with the company is quick and easy - much of it can be done online at the company website. You can access a quotes package as well as all the forms you need for application. Once you are a client, administration, underwriting and claims forms can be obtained in this way as well.
By focussing on this limited aspect of insurance, the company is able to rationalise internal operations and administration, and also give better levels of service, couple with specialist expertise. This makes it a good choice if you`re looking for something more personalised and specialised than the large general insurance companies.
Rather than take the direct route, the company uses a network of brokers. All are carefully selected and vetted and you can view all the brokers` accreditations online. As additional value-added incentives the company offers plenty of promotions and special offers, so it`s worth a visit to see what`s on offer.
PRODUCTS

Accidental Death Insurance

General and Deferred Life Insurance

Disability and Impairment Insurance

Dread Disease Insurance

Income Replacement Cover

Trauma Cover

Female Protector
BEE AND CSI INFORMATION

The company is a sponsor of the Cotlands children`s organisation, which means that when you do business with them you`re also making a direct contribution to disadvantaged children.
CONTACT DETAILS
Toll-free telephone: 0860 100 000
Tel: (011) 329 7000
Fax: (011) 326 0123
Email: info@altrisk.co.za
Physical Address:
Unit 7, Burnside Island Office Park
410 Jan Smuts Avenue
Craighall
Postal Address:
P O Box 2944
Pinegowrie
2123
Gauteng
URL: www.altrisk.co.za