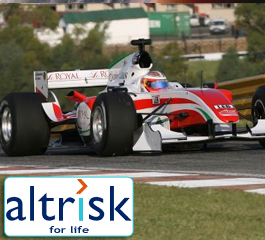 Racing drivers Insurance available at Altrisk
Altrisk joined forces with Motorsport SA to provide this new cover plan.
Altrisk, the leading insurance group, has joined forces with Motorsports South Africa to develop cover for racing enthusiasts that is far more affordable than policies currently available to them.
According the Managing Director of Altrisk, Craig Harding, the company is well known for its new age approach to underwriting.
"Where other insurers call a racing driver a high risk, we call him adventurous," he said.
"Through our underwriting approach we always consider the individual and their unique circumstances," he explained. "So racing enthusiasts perceived to be high risk by the broader industry but who are otherwise healthy and hold a valid motorsport license, may well qualify for affordable cover with no exclusions."
Harding said that when discussions began with Motorsport SA, the group was impressed with the the level of skill of members, and the fact that they are licensed to race.
"In many respects, a qualified motorsport driver is no greater a risk than your ordinary motorist, if not better trained and disciplined," said the MD of Motorsport SA, Francois Pretorius.
Craig said that "daring to be different" was part of the reasons why Altrisk is proud to be the first insurance group to cover people with dangerous hobbies, and those who work in territories that are considered high risk.
"There will always be an element of unpredictability in motorsport racing and it can be dangerous, and fatalities and permanent disability as a result of an accident still happen," said Pretorius.
"The safety standards have improved dramatically over the years not only in terms of practice, but also in terms of track conditions and management, vehicle design and protective wear."