The Homeloan Guarantee Company does exactly what its name says - it offers guarantees to creditors for home loans, most specifically against the property debts of lower income families. A Section 21, non-profit company, it was started in 1989 to help solve the social development challenges of increasing home ownership amongst disadvantaged communities in South Africa. By offering lenders credit guarantees, lenders are more willing to grant housing finance to customers who might otherwise be perceived by the traditional financial sector as high risk clients.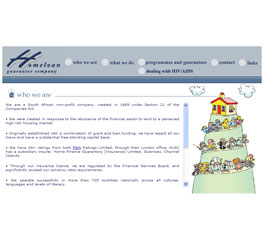 Homeloan Guarantee Company Website
On the HLGC website you can read about their programmes and guarantees
The Homeloan Guarantee Company was specifically created to help improve and better manage lower income people`s access to home loans. The social and political history of South Africa has resulted in many citizens being left out of the formal economy and its financial infrastructures. Millions have no financial security and they often have very little knowledge or access to information about financial services. This poses many challenges for potential home owners in the developing economic sectors.
The company has thus developed a two-pronged approach to helping lower income people own their own homes. In conjunction with its credit guarantees, it also offers various training courses to educate and inform its clients about financial literacy and the responsibilities of owning a home and paying a mortgage. The training courses are available in all official languages and the training methods are practical, interactive, participative, and tackle issues in an understandable and clear manner.
The company works hand in hand with other social development agencies such as the Department of Housing and the National Housing Finance Corporation. Its success record speaks for itself - while the company was first financed with loans and grants, it now has its own strong capital base and all the original loans have been repaid.
The Homeloan Guarantee Company knows that responsible and accountable mortgage lending is the best way towards sustainable and long-lasting home ownership.
PRODUCTS
Guarantees on home loans secured by mortgages

Guarantees on rentals and instalments for housing associations

Guarantees on pension and provident funds

Housing Consumer Education
Programme is run by the Department of Housing.

Borrower Education
Educates home owners with housing finance knowledge and skills, including owners` financial duties and obligations.

Tenant Education
Educates tenants about their rights, duties and responsibilities, and includes information on leasing agreements.

Home Owner Education
Educates homes owners on the many aspects of being a responsible home owner.

Train-the-Trainer
Courses to train new HLGC course facilitators.
BEE AND CSI INFORMATION
The company does not have a specific CSI programme as its total core business is in the area of social development, the same aims of corporate CSI projects.
CONTACT DETAILS
Physical Address:
10th Floor
The Atrium
41 Stanley Ave
Auckland Park
2092
Postal Address:
PO Box 23
Auckland Park
2006
Tel: +27 (0) 11 - 726 3150
Fax: +27 (0) 11 - 726 7415

Email: victor@hlgc.co.za
URL: www.hlgc.co.za