Lion of Africa Insurance Company takes its name from its attitude to insurance provision in the South African market. The company is one of the emerging modern types of South African insurers - it was founded in 1999, making it a relatively new kid on the block.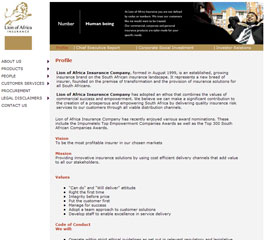 Lion of Africa Website
The Lion of Africa website provides a breakdown of their products as well as contact details
One of the primary characteristics of this sort of company, which this one has, is the creation of insurance packages that suit all sectors of the community, especially the previously disadvantaged communities, in line with black empowerment principles. The overall idea is to provide insurance to those sectors of the community that have in the past not had access to insurance for one reason of another - be that risk profile or affordability.
Lion of Africa was established collaboratively by financial powerhouse Santam Limited, Commlife Holdings and listed empowerment company, Brimstone Investment Corporation.
Having achieved an "A" rating from the Global Credit Rating agency for its risk profile and ability to pay claims, Lion of Africa has firmly established itself in its market and is has the highest rating of any South African short-term insurance company that is wholly run on black empowerment priniciples.
A nationally based operation, with offices in all the major centres, the company is able to offer a selection products to a variety of business types - be that commercial businesses, large corporations and parastatals - as well as to individual clients. The head office, situated in Johannesburg looks after all the administrative functions, plus underwriting and analytics. This leaves the regional branches free to focus on servicing clients and selling and marketing the insurance products.
Corporate products on offer include a range of cover options, with products like liability insurance, business interruption protection, and fire and theft cover. There are also products aimed at specific industries, especially the engineering and marine industries. Comprehensive cover is also available for the commercial sector in general. Individual personal insurance is also available - specifically household insurance and personal liability insurance. These products can be individually tailored to suit specific needs.
PRODUCTS
Lion Corporate Solution
Tailored to specific requirements of large corporations

Lion Local Authority Solution
Aimed to cover risks of local government organisations

Lion Marine Solution
Specialised marine solution products

Engineering Solution
Can be taken alone or as part of a commercial insurance package

Lionshare Classic
Offering comprehensive household insurance covering home, contents, valuables and vehicles, as well as a range of emergency situations

Lionshare Select
This policy is similar to Classic, but allows the policy holder to pick and choose which options they`d like, thereby controlling the costs better.

BEE AND CSI INFORMATION
Lion of Africa is created along the dual pillars of commercial success and economic empowerment. The company also supports various initiatives aimed at alleviating the impact of HIV/Aids in various underprivileged communities around the country.

CONTACT DETAILS
Head office Tel: 011 645 1900
Head office Fax: 011 645 1952
Personal Lines Quotations and Claims: 0860 1027 24

URL: www.lionsure.com