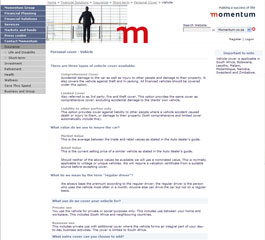 Momentum Website
On the Momentum website you can find out more about the company's structure and diverse range of products.
Momentum started out as a subsidiary of AVBOB in the decade of the 1960s. This gives it a track record of over 40 years in South Africa, and it has grown into one of the most mature, yet innovative, insurance companies in the country. It hasn`t been a meteoric and public rise - in fact it`s been one of those quiet success stories, which often result in a more reliable entity than one that arrives in a blaze of glory. In recent years the company has increased its public profile through corporate sponsorship, a lot of it in the highly visible sports sponsorship arena, which is why its name has become more well-known. But it did everything the right way - putting the horse before the cart, as it were, by building a solid organisation and only then building a more apparent brand profile.

Momentum primarily offers two sets of products - a short-term insurance line, and a life and disability line. It`s short-term insurance focuses on simple and effective products, without a whole lot of different configurations. One of the company`s big strengths is that it offers tried and trusted solutions based on simplicity and reliability. Yet it has innovation as a cornerstone of its operations, so it also has the flexibility to tailor its products to meet individual needs. Premiuns are also not set - they are adapted to your particular risk profile. Service is another strong point and in our personal experience, this is one of the insurance companies that communicates very well with its clients.
On the short-term insurance side, there are personal insurance products and commercial insurance products. On the personal side it offers vehicle cover that stretches right across southern Africa. When you insure your vehicle with Momentum, you can get cover that applies in South Africa, as well as Swaziland, Lesotho and the surrounding countries (Malawi, Zimbabwe, Botswana, Namibia and Mozambique). The cover can include trailers, caravans and watercraft as well. Then there`s buildings cover, which covers the structures on your property, and contents cover, for the belongings in your household. All risk cover can also be taken for personal belongings. You can also get additional personal accident cover.
On the commercial short-term insurance side, a lot of different types of cover are provided. Broadly speaking, businesses can get customised cover in the sectors of retail, professional services and service and repair industries. The only sectors that are excluded are heavy industry and manufacturing. Typically, the kinds of cover that are offered include buildings, vehicles, office contents, electronic equipment, stock and all risk insurance. There are also plenty of add-ons that can be acquired, like business interruption, liability, accident, and employee dishonesty.
On the life and disability side there is a wide selection of risk cover available, all within a single flexible policy. There are packages for individual risk insurance and group cover.
PRODUCTS
Personal short term insurance
Vehicle cover (motor vehicles, watercraft, trailers, caravans); building cover; contents cover; all risks cover for possessions
Commercial short term insurance
Retail, professional and service/repair sectors.
Vehicle insurance, buildings and office contents insurance, electronic equipment insurance, stock and stock in transit insurance, all risk insurance.
Add-ons are money cover, employee dishonesty and liability, business liability, and business interruption.
Life and disability insurance
Personal insurance solutions: life cover, disability cover, critical illness, living benefits, future insurability cover, premium protection
Group insurance solutions schemes.
BEE AND CSI INFORMATION
Like all large companies in South Africa, Momentum has an active and compliant BEE policy. It also has a powerful CSI programme that has a number of different facets to it. There`s the Momentum foundation, which focuses on care, prevention and education in the area of disability, and community HIV/AIDS initiatives.
The company is also part of the FirstRand Foundation, which is a corporate investment foundation that supports a large number of charitable organisations.
Then there`s the Momentum Volunteer Programme where staff are encouraged to become personally involved in causes that are important to them. There are a number of staff-driven initiatives, and Momentum operates a one-for-one funding programme, where it matches money that is collected or donated.
CONTACT DETAILS
Client Contact Centre: 0860 66 98 76
Fax: (012) 675 3911
Email: client@momentum.co.za
Postal Address:
Momentum Contact Centre
PO Box 7400
Centurion
0046
Head Office Address:
268 West Avenue
Centurion
Gauteng
0157
URL: www.momentum.co.za