New National Assurance Company holds the proud distinction of being South Africa`s first fully black-owned short-term insurance company. With its inception in 1972, New National met the goals of the 2004 Financial Services Charter on Black Economic Empowerment 30 years ago. And because of its years of experience through changing economic and social environments, the New National Assurance Company has developed the knack of offering dynamic and tailored short-term insurance products that suit your personal and business needs.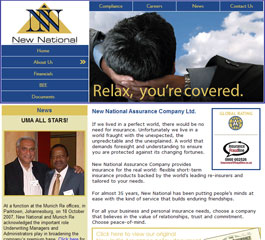 New National Assurance Website
On the New National website you can learn more about the company and its products
Perhaps because of its unique history, the company has a clear, understandable and flexible approach to its services and financial insurance strategies. Its insurance policies are meant to fit and be processed in the real world and procedures and paperwork are easy to understand. The company has offices in KwaZulu Natal and Gauteng and while it may be smaller than many of its industry rivals, its years of meeting the needs of local customers has enabled it to build enduring client / customer relationships and in-depth local expertise.
There is a comprehensive and diverse range for the individual and corporate customer. Along with personal motor vehicle, accident, household building and content cover, you can also insure your jet-ski or your fishing boat.
If you manage or own a business, there is an extensive range of insurance solutions that will cover your business from the vagaries of trading markets, fluctuating costs and risky debtors. The company can provide you with various surety bonds, credit and liability guarantees as well as cover such as all-risks against machinery and for goods in transit.
You can get more information about the full range of New National short-term insurance offerings via their website or by contacting one of their branches.
PRODUCTS
Individual Insurance
Motor
Household building and contents
All Risks
Personal Legal Liability
Pleasure Craft
Group Personal Accident
Business Insurance
Motor vehicle insurance
Cover for fleet and commercial vehicles, buses and driving schools

Property - Commercial & Industrial
Cover for all-risk, fire, theft and accounts receivable

Electronic Equipment
Cover for mechanical breakdown, stock deterioration and profit loss

Marine
Cover for hull damage and goods in transit

Construction
All-risk cover on elements such as plant and machinery, contractors and third party liabilities

Liability
Cover for various liabilities including public, product and employees

Surety Bonds and Guarantee
Guarantee cover for utilities, deceased estates, court bonds and custom and excise bonds

Fidelity Guarantee
Cover against forgeries, employee dishonesty and internal losses
BEE AND CSI INFORMATION
The company is fully black owned and was the first BEE short-term insurer in South Africa, established over 30 years ago.
CONTACT DETAILS
Physical Address:
5th Floor
Field House
25 Field Street
Durban
4001
Postal Address:
PO Box 1610
Durban
4000
Tel: +27 (0) 31 306 1504
Fax: +27 (0) 31 301 1166

Email: newnational@nnac.co.za
URL: www.nnac.co.za