Professional Provident Society, shortened to PPS, provides insurance for graduate professionals, and is dedicated to this specific niche only. PPS South Africa is the local arm of this agency, which is the largest company in the world offering this form of insurance. Providing all manner of personal insurance and healthcare cover, PPS thus has a completely insurance product set available to professionals.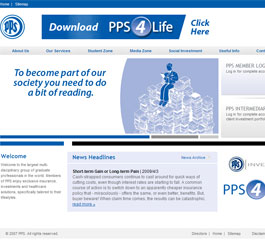 PPS Website
On the PPS website you can view their products and access your portfolio online.
The beginnings of PPS go back as far as 1941, when a collection of dentists came together with the idea of creating insurance solutions to address the specific needs of graduate professionals. The saw the opportunity to provide this demographic with insurance solutions that they were unable to get at the time.
While initially these solutions were only offered to their peers in the medical profession, the popularity soon saw the net being widened to include all types of graduate professionals. In the wake of this an additional student option was developed to be offered to those still busy with their studies in various professional fields.

What further differentiates this company from other insurers is that its ownership is held by its policy holders. Board positions are filled from this pool as well, in addition to members of the various professional associations. Surplus profits are distributed amongst policy holders, making it a quasi investment vehicle at the same time. Policy holders reap actual dividends that the company makes once it`s operating and underwriting costs have been covered.
The conditions of membership are simple: a client needs have a professional or postgraduate degree, be younger than 51, and work as professionals in their fields or run their own professional practices.
PRODUCTS
PPS Provider
This product covers the PPS Sickness and Permanent Incapacity Benefit, PPS Professional Life Provider and PPS Professional Health Provider packages

PPS Business Provider
Essentially a business assurance product, including the PPS Business Life Provider and PPS Business Health Provider benefit

PPS Student
Covering sickness, permanent incapacity and hospital benefits

PPS Short-term insurance
Includes household contents cover, motor cover, buildings cover, personal liability cover, all risks cover, car hire, watercraft, leisure vehicles and equipment cover, and roadside assistance.
BEE AND CSI INFORMATION
PPS is one of the most forward-thinking insurance companies in the country, and became one of the first companies in its industry to successfully implement a fully developed black economic empowerment deal. The company is also actively pursuing black professional clients.
It is also very active in community initiatives, having more than met its annual CSI targets. This involvement is mainly focused in the areas of scholarships and grants.

CONTACT DETAILS
Physical address:
6 Anerley Road
Parktown
2193
Postal address:
P O Box 1089
Houghton
2041
Tel: 011 644 4200
Fax: 011 644 4400

Email: info@pps.co.za
URL: www.pps.co.za