Unity Insurance is taking a dynamic and leading role in the expanding SA short-term insurance industry and is at the forefront of transformation and accessibility for its employees and customers. The company is majority-owned by Telesure Investment Holdings while the balance of equity is black-owned.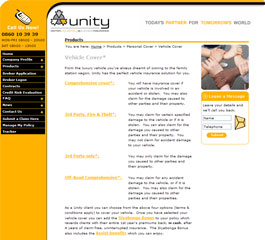 Unity Website
The Unity website allows you to maintain your policy, submit claims and find the right cover for your needs
This ownership is more than window-dressing - every shareholder must take part in the company management and may only remain an owner in Unity Insurance as long as they meet required profit targets. The Unity Insurance policy of active participation, accountability and true ownership is leading the way towards meeting the goals of the Financial Services Charter of 2003.
There are a number of short-term insurance solution on offer to individuals and to small and medium enterprises. In line with the company`s overall transformation policy, insurance cover and financial solutions for SME`s are a key focus area. It has developed 26 easy-to-use tailored products and services across 5 segments of the market designed to support sustainable enterprise development. The company was even awarded the Readibility mark for the easy-to-understand English wording and explanations of its policy details.
The company carries the same attention to customer service and interaction through its products for individual consumers. It offers a number of unique lifestyle products, including insurance policies for recreational vehicles like caravans and watercraft, and the costs of a visit to the vet if your pet is injured. The company has added lots of add-on benefits too - roadside and trauma assistance, legal advice, ARV & counselling services for the crucial initial 72-hour period of HIV exposure. Entertainment Assist will help you manage your travel, entertainment and accommodation arrangements.
You can also add the Siybonga Bonus to any of your policies. After 4 years of no claims and continuous insurance, the Siyabonga Bonus will pay you back your first year`s premiums, in cash.
PRODUCTS
Individual Insurance
Motor vehicle
Comprehensive motor insurance, including coverage of off-road vehicles and all policies include cover for damage you may cause to other parties or property. The Unity Like-New policy covers everyday chips and dents on your car.

Household
Full cover of your household contents, including vet expenses for an injured pet and cover for belongings damaged in a removal truck accident.

Buildings
Full cover for damage and other mishaps to your house and other buildings on the property. Includes elements such as theft, rental loss and a burst geyser.

Watercraft
Cover for a variety of water craft and includes salvage, passenger medical insurance and an optional selection for liability for waterskiers.

Trailer
Comprehensive cover on your trailer, including storage and towing.

Caravan
Comprehensive cover on your caravan, and also includes storage and towing costs.

Personal Possession
All-risk cover for personal possessions and can include cover for swimming pool equipment.

Unity Protection Plan
Covers funeral expenses for you and your loved ones.

Personal Accident policy
Covers you for death, disability and hospital costs if you are involved in an accident.

Unity Cellphone Insurance
Covers replacement of your cellphone should it be lost, stolen or damaged.

Business Insurance
26 business short-term insurance policies across 5 market segments that offer individually tailored products for your business, including such SME`s as florists, accountants, dentists and guesthouse owners.
BEE AND CSI INFORMATION
The company is fully BEE compliant and has a core business philosophy of transformation and empowerment for its employees and customers. Company shareholders must deliver on set profit targets in order to maintain their ownership and also take an active part in the running the company.
CONTACT DETAILS
Physical Address:
17th Floor
25 Owl Street
Milpark
Johannesburg
2092
Postal Address:
P.O. Box 11250
Johannesburg
2000
Sales:
Tel: +27 (0) 860 10 39 39
Fax: +27 (0) 11 489 4011
Johannesburg Client Service Branch
Tel: +27 (0) 11 489 4900
Email: ntsakon@unity.co.za
URL: www.unity.co.za