Zurich Insurance in South Africa is the successor to the country`s well-known SA Eagle financial services company and can trace its roots back to the mid 1800`s. The company`s head office is in Zurich, Switzerland. Today, the SA company holds position as the fourth largest short-term insurer in the country and offers a range of services and products as unique as its origins.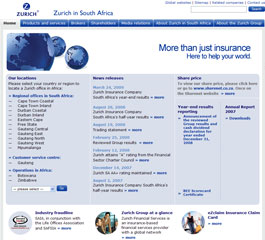 Zurich Website
You can learn more about Zurich's personal, commercial, corporate and tailored insurance products on their website
With offices and affiliates throughout sub-Saharan Africa, a strong network of 11 major sales areas with expert brokers and agents and over 40 years of experience, Zurich Insurance offers its customers an extensive range of insurance solutions for individuals, commercial and corporate entities.
Individual customers can choose from a varied selection of insurance products. Along with the standard offerings of comprehensive home, motor and accident coverage, you can also enjoy the benefits of specialised cover with products like `Cyclesure` with cover for cyclists; `Cross Country` gives you financial protection for your 4x4 vehicle and accessories; `Flexiflite` is the perfect product for the self-employed with its combination of business and household insurance in one policy and the `Collectibles` cover gives you insurance for your heirlooms and valuables.
With its attention to your financial needs in all parts of your life, the company also offers auxiliary services. If you have been in a car accident, you can process all your necessary claims at the company`s one-stop motor assessment centres. You can also enjoy full personal protection and financial assistance through Zurich Assist, with tax and legal assistance, as well as personal health and household maintenance assistance.
The specialised offerings extend to the commercial and corporate product listing. The company`s broad range of insurance solutions for businesses offers tailored short-term insurance cover for the engineering, aviation and marine industries. There are also products tailored for small and medium enterprises, like its `BnB Sure` cover for guesthouse owners and commercial `Collectibles` cover for precious gems dealers, jewellery manufacturers and art dealers.
The company carries innovation through to its policy and claim systems. Its Internet Monthly Policy (IMP) provides brokers, agents and customers with a complete policy and claims management system via the internet. Advanced information processing systems, allied with the company`s integrated approach to thought leadership, places it amongst the leaders in the industry.
The company has a recognised pedigree and high quality of service history in the SA short-term insurance industry and its unique range of short-term insurance products will give you financial protection across the full spectrum of your personal and business activities.
PRODUCTS
Individual insurance
Motor vehicle insurance


Household insurance


Accident insurance


Collectibles
Insurance for your heirlooms and valuables


Cyclesure
Insurance for cyclists, including cover during local and international competitions


Cross Country
Insurance cover for 4x4 vehicles and accessories


Flexiflite
Business and household insurance combined under one policy
Commercial insurance
Small and medium


BnB Sure


Collectibles
Insurance cover for your corporate valuables such as art collections, first editions and collector`s items


Liquid
Small commercial business insurance


Aviation
Insurance cover for aircraft owners, including financial protection for small, jet and vintage aircraft, hot air balloons and microlights.


Engineering
Insurance products are tailored to your needs and could cover the insurance on a manner of civil, light industrial and construction engineering projects.


Marine
Insurance cover for marine items, resources and transport. The marine insurance products also cover all kinds of freight movement, including transport by air, sea, rail, road and post.
BEE AND CSI INFORMATION
In compliance with the Financial Sector Charter of 2003, a 10% percent stake of the total issued share capital is held by Royal Bafokeng Finance (Pty) Limited. Zurich in South Africa`s CSI programme is dedicated to helping protect the environment, improve education facilities for disadvantaged children and give holistic support to communities living with HIV/Aids. The company also supports CSI initiatives concerning internal transformation and BEE requirements.
CONTACT DETAILS
Physical Address:
70 Fox Street
Johannesburg
2001
Postal Address:
PO Box 61489
Marshalltown
2107
Tel: +27 (0)860 00 90 90
Fax: +27 (0)860 00 98 60/1
Email: contact form on website
URL: www.zurich.co.za