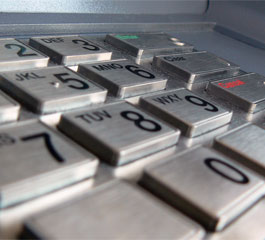 SA banks are taking steps to counter fraud
ATM fraud and counterfeit money are high risk areas for bank customers
With insurance fraud considered the number one economic crime in South Africa, the country's banks have taken significant steps to counter the problem.
A unique survey conducted by AIG South Africa over a six month period showed just how prevalent insurance fraud is in the country and banks are using the information to identify high risk areas for their customers.
These include ATM fraud and counterfeit money, among others.
The Head of the Commercial Crime Office of the South African Banking Risk Information, Susan Coetsee, speaking at a seminar in Durban last week, said that because of the proactive steps taken by South Africa's banks, there has been a slight decrease in the number of credit card fraud cases in the country.
Bank officials have been specially trained to look out for fraudulent activity, while detection technology has also played a huge part in the statistics.
"From January to June, I believe credit card fraud dropped because of the introduction of chip and pin technology," said Coetsee. "Credit card users should be alert for tampering or swapping of equipment, as well as wireless connections because there was a peak in this crime towards the end of last year."
Other speakers at the seminar, which was offered by the Association of Certified Fraud Examiners, said that the current economic climate played a huge part in the rise in insurance fraud numbers.
In the meantime, fraud experts believe that the World Cup Soccer event next year will bring about an increase in fraud activities and are already taking steps to deal with the issue, such as the introduction of unique fraud courts.