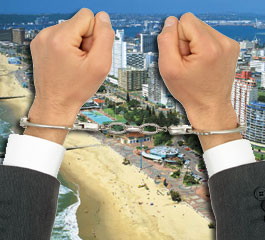 KwaZulu-Natal named as most notorious province for insurance fraud
Natal made up 42% of all fraud cases in the first half of 2009.
The South African Insurance Association has highlighted the growing trend of increased fraudulent claims in its mid year report for 2009.
The group said that tough financial times had led to more people making inflated and non existent claims in a bid to pocket the payouts.
"Types of short term insurance fraud include claims for events that did not happen, for example theft, burglary and hijacking," said Viviene Pearson of SA Insurance Association, "as well as inflated claims - claiming for a more expensive item than was actually lost, claiming for more items that were actually lost."
The area in South Africa that is more notorious for insurance fraud is KwaZulu-Natal, making up a staggering 42% of all fraud cases in the first half of 2009.
Gauteng and the Eastern Cape follow on the list.
Since 2003, the insurance industry has increased its focus on foiling false insurance claims and Asisa said this week that the industry had managed to halt fraudulent claims valued at nearly $376 million last year.
However, it was not all good news. "While the industry has been successful in clamping down on fraud, the value of attempted cases has increased," said the deputy Chief Executive Officer of Asisa, Peter Dempsey.
It is ultimately the innocent insurance customer that pays the price for insurance fraud. If companies experience losses on false claims, they will eventually have to increase the price of their premiums to recuperate these losses.
Dempsey outlined several examples of insurance fraud, including claims for monthly benefits on non existent injuries, and even switching fingerprints of dead relatives in the case of life insurance claims.