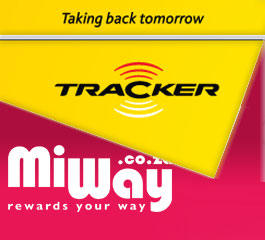 MiWay signs deal with Tracker SA
MiDriveStyle rating and tracking devices will be supplied by Tracker SA to MiWay Insurance.
Continuing with its policy to allow South Africans to determine the size of their car insurance premiums depending on their own driving patterns, MiWay has signed a partnership deal with Tracker SA, one of the leading car tracking companies in the country.
Tracker SA will supply rating and tracking devices for MiDriveStyle, MiWay's innovative behavior linked insurance offer.
MyDriveStyle, launched last year, essentially individualizes the driver's insurance policy based on driving habits.
According to the Chief Executive Officer of MiWay, Rene Otto, MiWay has been on the lookout for some time now for a specialist in the tracking industry.
"Our requirements are that our partner specializes in tracking and recovery, manufactures a world class device for our MiDriveStyle offer but can also offer this at an affordable price," said Otto. "We believe that we have found this in Tracker... their track record speaks for itself!"
Otto says that a growing number of South Africans are seeking customized insurance options based on their own profiles.
"They are no longer satisfied with basket premiums based on the perceived collective characteristics of demographic groups," said Otto.
He said the MiDriveStyle products makes it possible for traditionally high risk groups such as young drivers under the age of 25, to lower their premiums if they can prove that they are better drivers than others in their own age group.
"We believe that MiWay, positioned as an innovative industry leader, is perfectly placed to take advantage of this opportunity, which is in line with our promise of providing South African consumers with ground breaking insurance solutions that aim to make insurance more affordable and convenient," he added.