MiWay is a vibrant modern insurance company that proved itself as a worthwhile new addition to the short-term insurance market in South Africa. It follows the direct insurance model, and has achieved a good measure of success with this, the most popular way of organising insurance.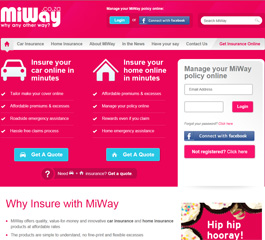 Miway Website
On the Miway website you can get a quote, learn more about their products and submit a compliment or complaint
It has a sound financial foundation, with 3 of South Africa`s biggest and most stable financial service providers as shareholders. These are PSG, Santam and Sanlam. These blue-chip listed companies, all listed on the stock exchange, provide the peace of mind that your insurance is secured by reputable companies that have been around for a long time in the industry. It is underwritten by Centriq Insurance Company.
Miway has 4 cornerstones to its operations and success. Firstly, it emphasises convenience - you have full online access to your insurance portfolio, backed up by a hi-tech call centre.
Secondly, you earn regular rewards - known as MiRewards. Unusually, you earn these whether you claim or not. This is a groundbreaking idea that has been very successful. Because insurance is all about risk, the company recognises that just because you have had an accident it doesn`t mean you pose a higher risk - after all, the accident may not have been your fault. Consequently, your claims are evaluated in this way when if comes to rewards. You get refunds on your premiums if you emerge as having a lower-risk profile.
Thirdly, duplication of administration, time and effort is avoided. Once you have provided your profile information, you won`t have to do so again when taking up additional product offers.
Lastly, the company takes transparency and simplicity very seriously. The whole company operates this way, and there`s even a lively public forum for complaints that company agents contribute to. It`s right there for you to see uncensored feedback on the company website. Huge kudos to them for that.
There are 3 types of products provided: motor insurance, home insurance and personal liability cover. Within these there are additional options. With the motor insurance policy there are car hire and car value protector add-ons, and complementary services: finance protection, warranty protection and liability protection. With home insurance there is extended cover, cover for articles you carry with you, and insurance for permanent fixtures. Full product details are below?
PRODUCTS
BEE AND CSI INFORMATION
The company conforms to the BEE requirements of its shareholders. Details of community service initiatives are not yet available.
CONTACT DETAILS
Contact Call Centre: 0860 64 64 00
Fax: +27 (11) 990 0001
Email: info@miway.co.za
Postal Address:
PostNet Suite #382
Private Bag X121
Halfway House
1685
Head Office Address:
338 16th Road
Randjespark
Midrand
1685
URL: www.miway.co.za