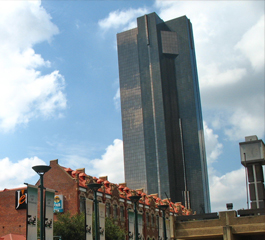 The Reserve Bank wants to achieve stability in South Africa's financial sector
This is due to the recent recent global financial crisis.
The deputy governor of the South African Reserve Bank, Xolile Guma, said this week that the financial stability responsibilities of the country's central banks had become more explicit, following the global financial crisis that hit the world in the past year.
Guma was speaking at the release of the Reserve Bank's Financial Stability Review and said that the bank was due to tighten control of the South African financial sector.
The objective, said the deputy governor, was to achieve stability and, in the process, to help co-ordinate the policies of other authorities.
"The financial crisis has demonstrated, in general, that, although micropudential supervision makes a valuable and indispensable contribution to financial stability, it may be insufficient on its own to ensure systematic financial stability," he said.
Gumas aid that it was necessary to introduce a macroprudential approach to the formation of financial policies in a bid to complement the microprudential supervision in South Africa.
"The aim of such a policy would be to smooth the impact of the economic cycle on the financial system and contain the build up of systematic risks in the financial system as a whole," he said.
He said the bank was therefore in the process of developing "an integrated framework for a macroprudential policy approach" as a means to achieving its objective of financial stability.
The ultimate objective would be to make the financial sector resilient to shocks such as those experienced in the past recession period.
"The proposals for reform have gone beyond banking sectors and have been expanded to include insurance industries, rating agencies, hedge funds and accounting standards," said Guma.