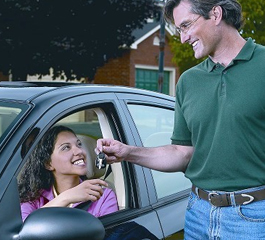 Parents who front for young drivers are commiting insurance fraud
This is due to providing false information to insurance companies.
The cost of motor insurance for young drivers is high, and for good reasons too.
When parents want to cut down on the cost of their insurance policies, many take out policies in their own names, despite the fact that the car is in fact going to be used by the young drivers - their children.
Amazingly, many people are unaware that they are committing any crime by using a tactic that insurance groups have coined "fronting".
A recent UK survey showed that 35% of those questioned believed that 'fronting' was simply a loophole in the law to get cheaper insurance, while 10% had no idea that they were doing anything wrong.
"There is a lot of confusion among vehicle owners about the importance of giving accurate information about the main driver to an insurer," said the CE of the Motor Insurance Bureau, Ashton West. "There is a need to help people understand and appreciate the importance of being adequately insured."
There are some things that parents should note about their insurance policies if they decide to lie about young drivers on the policy.
First of all, the insurance company will not pay out in the event of an accident.
This can strike a serious blow to the finances of a family, especially if they have to fork out for a new vehicle or, even worse, medical expenses for themselves and the injured driver.
In addition, the long term repercussions on the young driver could be devastating.
Parents should strive to set a good example for their children by paying out for the proper insurance and ensuring that they are insured for all eventualities.