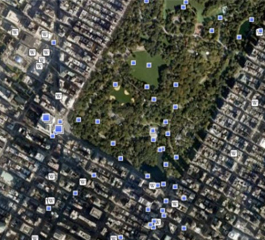 Criminals are using google to check out properties
Facebook and Twitter are also believed to put people at risk.
Internet technology and social networks have become so ingrained in our lives, that many South Africans don't stop to think just how they are endangering their own lives and property by exposing themselves to everybody out there.
The Managing Director of MUA Insurance, Christelle Fourie, warned that technology such as Google Street View - recently launched in South Africa - provided criminals with the opportunity to check out the security features of homes, including fencing, walls and the perimeter of the property.
"Criminals are becoming increasingly sophisticated in the types of technology they employ to plan a burglary and sites like these can actually aid someone in doing this," said Fourie.
Another way that criminals abuse the internet is by reading Facebook and Twitter messages.
What could be easier for a thief to do than look for people who have posted information about their travel plans and then use the time to burgle their homes?
"Sites such as Facebook and Twitter invite people to disclose personal information such as what they are doing at that moment and where they are," said Fourie. "People also post details such as holiday plans and when they will be away from home, giving criminals all they information they need to plan a burglary."
Fourie also warns that while insurance companies don't generally check their clients' online habits, there may come a time when the price of insurance premiums may also take into account this issue.
"Insurance premiums are based on a risk assessment of each individual," she said. "At the moment online activity is generally not considered part of an individual's assessment, however with new online services launching all the time, insurers may soon have to start taking account of people's online habits."