Being wholly and completely established in South Africa, Channel Life specialises in life assurance options tailored specifically for each clients needs, with intelligent solutions based on personal service for the individual as well as corporate packages.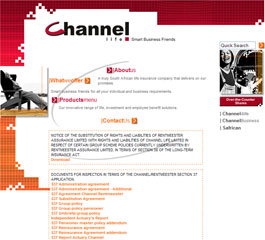 Channel Life Website
On the Channel Life website you can research the company's insurance products and see their contact details.
Financial giant Sanlam is the backbone of Channel Life, owning 50% of the company since the beginning of 2006. Sanlam itself is one of South Africa`s principal players in the financial services industry. In the very near future, one can expect to see a separate listing for Channel Life in light of this recent development.
As an insurance company Channel Life has separated its products into two divisions, one set aimed at the individual and a separate basket aimed at corporate insurance needs. For the individual there is risk cover, personal savings retirement cover and additional income generation products. Those who previously found themselves under-insured, or those who could not previously access the benefits of personal insurance, will find this product range perfect for their needs, since it has been designed to appeal to as broad a market of such individuals as possible.
For the individual, the basket of products designed by Channel Life includes Masterplan, intended specifically for those who work on farms and in factories, and surrounding industries. The MasterPlan covers hospitalisation, funeral cover, family funeral issues, and disability cover, as well as helping you plan for retirement. The LifeCare plan thinks about dread diseases so that you don`t have to, thinking of those eventualities such as cancer, but also considering accidental death and HIV/Aids. The LifeChoice product takes care of income protection for accidental death and death, as well as such eventualities as retrenchment, disability, dread disease, funerals and HIV/Aids care. Finally, Channel Life has created the DreamWeaver family funeral plan and the Family Funeral Provider, which cover funeral plans for family members.
When planning for your company, a range of eventualities are considered, for example, death, dread disease, disability, and family funerals. Various employee group benefit plans cover these possibilities.
PRODUCTS
Group Individual Funeral Cover
Designed specifically for unions and associations where minimum memberships can be guaranteed.

Group Schemes
A range of employee benefits designed for employers, unions and associations, covering death, disability, dread disease and family funeral benefits.

DreamWeaver
This package is intended to cover all your family funeral needs.

LifeProvider
This plan covers dread diseases and income protection in a variety of circumstances.

MasterPlan
The MasterPlan is designed to cover hospitalisation, funeral, family funeral, disability, and retirement savings. It also includes a Funeral Support service.
BEE AND CSI INFORMATION

Channel Life Insurance fulfils all the legal requirements of black economic empowerment and carries a favourable Empowerdex rating.
The company also contributes to numerous CSI projects, including being a sponsor for the Eastern Cape SAPS golf team, bringing banking services to outlying areas, and donating sewing machines to an HIV/Aids hospice for single mothers who are trying to gain skills that will lead to income generation.
CONTACT DETAILS
Client Services: 0860 480 000
Head Office: 011 446 9800
Fax: 011 446 9986
Email: clientservices@channel.co.za
Postal: PO Box 1273, Parklands, 2121
Physical: Grosvenor corner, 195 Jan Smuts Avenue, Rosebank, Johannesburg, 2196
Website: www.channel.co.za