Discovery Life is a latterly launched insurance division of the very successful and well-established Discovery Holdings. The company was initially best known for its medical aid products and services. Having built up a large client base and an excellent reputation in this endeavour, it has since launched two more central client divisions - a credit card division and a life insurance division. And of course it`s the insurance part that we`re concerned with here.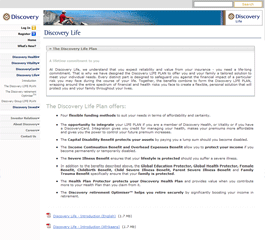 Discovery Life Website
On the Dial Life website you can find out more about their products and even get a financial advisor to call you.
The first obvious benefit of taking out life insurance with Discovery Life is that you`ll reap the rewards of the smooth functioning infrastructure. So although the products don`t necessarily have as long a track record as those of many of their competitors, they`ve become instantly dependable - thanks in no small part to the company`s financial stability and its fresh, modern-era strategic approach.
This approach is manifested in its innovative lifestyle and insurance products. It takes the same approach to these as it does to its medical aid and health protection line: the idea is that prevention is better than cure. So there`s an emphasis on preparing for eventualities and being flexible.
Almost everything revolves around the Discovery Life Plan, which is a tailored lifetime solution that encompasses cover for the entire range of health and financial risks. It`s an all-in-one product to give policy holders and their families all-round protection and peace of mind that is also flexible enough to be customised as lifestyles, lifecycles and needs change.
This plan includes a number of features that make it so comprehensive. There`s a Capital Disability benefit that will pay out a lump sum if you become disabled. There`s a Severe Illness Benefit that gives you lifestyle protection in the event of your becoming severely ill. There`s an Income Continuation benefit that includes an Overhead Expenses benefit - this will protect your income in the event of your becoming temporarily of permanently disabled. Then there`s also a Health Plan Protector that is designed to enable you to still afford to maintain your Discovery Health Plan. Lastly there is a retirement financial protection product that is meant to help you optimise your retirement income.
In addition, there are numerous value-added products that you get, which are listed below.
For seamless all-round integration of your various types of cover, benefits and rewards, your Discovery Life Plan can be integrated with your Discovery Health, Credit Card and Vitality plans. You can also choose from one of four flexible funding options.
PRODUCTS
Discovery Life Plan
An all-encompassing plan that includes:

Capital Disability Benefit
Income Continuation Benefit
Overhead Expenses Benefit
Severe Illness Benefit
Health Plan Protector
Retirement Optimiser



Discovery Life Plan Value-Added Benefits

Global Education Protector
Global Health Protector
Female Benefit
Childbirth Benefit
Child Severe Illness Benefit
Family Trauma Benefit
BEE AND CSI INFORMATION
The Discover Group as a whole is fully BEE certified, and is involved in a wide range of social investment initiatives. It sees CSI as a natural extension of its service, which in essence are aimed at optimising the well-being of community members. As well as having an overall corporate focus, it also runs a Volunteer Programme for staff to be involved on an individual level.
Some of the Discover CSI initiatives are the Laureus Sport for Good Foundation and the Discover Fund that supports health care projects and hospitals around the country.
CONTACT DETAILS
Telephone: 0860 00 54 33
Fax: 0860 543 339
Email: lifeinfo@discovery.co.za
Head Office Postal Address:
P.O. Box 784262
Sandton
2146
Head Office Physical Address:
16 Fredman Drive
Sandton
2146
URL: www.discovery.co.za