Hollard is a very well-established and very trusted insurance company - in fact it is known to be the largest private insurance company in the country. It operates through a vast network of brokers, and has operations extending right the way across South Africa, into southern Africa and further afield in Africa, as well as even wider across the world, including Pakistan, India, Australia and the United Kingdom. In Africa the countries it operates in include South Africa, Botswana, Namibia, Mozambique and Ghana.
Hollard offers all types of short-term insurance, as well as long-term insurance. It is an insurance underwriter, meaning that it provides insurance services and products that other insurance companies can market. It not only operates its own insurance company, but has also been a part of creating other insurance and financial services companies. It also provides insurance management consulting services to short-term insurance brokers - it does this in the form of its brokers division.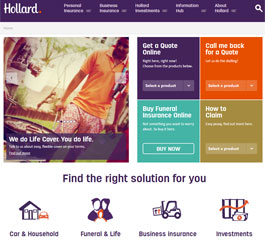 Hollard Insurance Website
On the Hollard Insurance website you will find a detailed breakdown of the insurance services they offer as well as company information.
The pre-eminence and quality of Hollard has been recognised in the form of many different awards. This is highlighted by the fact that it has won all of the top awards that are bestowed by SASRIA (the South African Financial Services Intermediaries Association). This includes Best Commercial, Best Corporate and Best Personal Lines insurance company.
Because Hollard is not a direct insurer (although it does offer direct financial services), it uses a large and cohesive network of brokers. It positions itself as an insurance services provider, rather than an insurance product supplier.
As far as these services go, there is comprehensive motor and household insurance, which it offers in conjunction with bond originators (banks) and car providers (motor dealers). When you buy a car or take out a home loan, Hollard`s services are thus directly available to you at the same time, for complete convenience. These insurance solutions allow you to insure motor vehicles, your household contents and personal possessions, as well as cover to insure that you can pay your debts - financial debt insurance. While there are standard insurance solutions available, you are also able to take out personalised insurance packages tailored to your needs.
The other main line of insurance that Hollard provides is business insurance - commercial insurance through its partner company, Etana Insurance - and insurance for retailers. The former allows companies to take out insurance policies to cover things like engineering and other projects, while the latter allows retailers to take out insurance to cover things like stock and loss of profits. Finally there are group risk insurance policies for larger employers - once again through specialist intermediaries.
PRODUCTS
Motor insurance
Cars and other vehicles.
Household insurance
Comprehensive home contents and possessions insurance, including cell phones, computer equipment, jewellery and legal costs.
Financial debt insurance
Cover that protects you in the event of your becoming unable to pay your personal loans, bank overdraft or hire purchase agreements.
Commercial insurance
Comprehensive insurance for a range of commercial operations and contracting.
Retailer insurance
Customised solutions to manage business risk, including insurance.
Group risk insurance
Long-term and short-term insurance solutions for employers.
BEE AND CSI INFORMATION

Hollard is committed to fulfilling BEE requirements throughout its company and also runs the Hollard Community Development Trust. This is a social and community upliftment scheme that provides community support covering rural and informal community development, education and HIV/AIDS.
CONTACT DETAILS
Telephone: +27 11 351-5000
Fax: +27 11 351-5001
Postal Address:
PO Box 87419
Houghton
Johannesburg
2041
Physical Address:
22 Oxford Road
Parktown
Johannesburg
URL: www.hollard.co.za